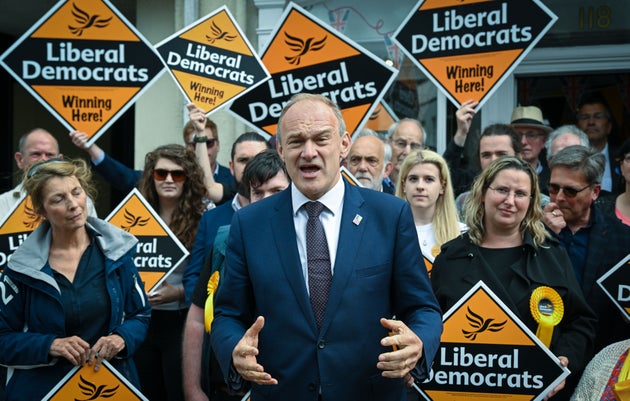 "I know he's a madman in some ways," says Loll Christie on Honiton high street. "But my argument again is — I think he kind of deserved a little party?"
The Lib Dems are expected to win the Tiverton and Honiton by-election on June 23, overturning the current hefty 24,000 Tory majority. 
But there are still quite a lot of Conservatives in Devon. And the expectations game can kill you.
It has not been a good few weeks for Boris Johnson. And there are a lot of things going in the Lib Dems favour. 
Tiverton is in their former south west stronghold – although the party has never held this seat itself.
At the local elections in May, the Lib Dems seized control of neighbouring Somerset council. The party has climbed to 15 per cent in the national polls.
The prime minister was recently almost ousted by his own MPs, but his survival has allowed opposition parties to argue it is the entire Tory party that needs to be given a kicking.
And the by-election itself was triggered when the incumbent Tory MP, Neil Parish, resigned after being caught watching porn in the Commons.
"The tide," Ed Davey says, "Is going out for the Tories." But the Lib Dem leader, campaigning in the seat, is trying to stop everyone getting carried away. 
"The Tories are fighting far harder than they did in North Shropshire," he says. "There is a battle on our hands. I think it could be really close."
It is a delicate balancing act, of making a Lib Dem victory highly possible, to make it worthwhile voters turning out, but not so inevitable potential supporters do not think they need to.
The "bicep kissing strategy", deployed in 2019, of over egging expectations, it is not.
In December the Lib Dems overturned a 23,000 Tory majority in North Shropshire. This time last year they did similar in Chesham and Amersham.
Both of these seats were snatched before the partygate saga had played out and the cost of living crisis had yet to bite.
Repeating it in Tiverton and Honiton would arguably be their biggest scalp yet.
All three are part of what the Lib Dems have successfully, and somewhat cheekily, branded the "blue wall" – southern Tory seats the party hopes are vulnerable to a yellow wave.
A few days out of the Chesham vote, Lib Dems on the ground were bullishly confident of victory. Westminster was somewhat taken by surprise by that result. 
In …read more
Source:: The Huffington Post – UK Tec