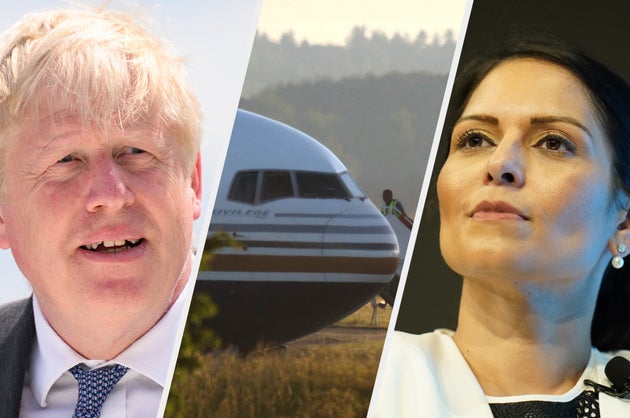 The government's first flight sending asylum seekers to Rwanda was grounded on Tuesday night by the ECHR
The first flight carrying asylum seekers from the UK to Rwanda was aborted at the 11th-hour on Tuesday, following intervention from a European court.
This seems surprising considering several UK courts were willing to let the flight go ahead.
So why was the European Court of Human Rights (ECHR) able to make the final decision for a policy – however controversial – which was not stopped in Britain?
What is the ECHR?
The ECHR applies and protects the European Convention on Human Rights.
This convention looks after the rights of everyone in the Council of Europe. There are 47 member states, including the UK, who have all promised to protect basic human rights to anyone within their borders, including their own citizens and other nationalities.
The UK made these rights part of its domestic law through the Human Rights Act 1998.
The convention itself was initially proposed by former prime minister Winston Churchill and put together with the help of British lawyers, in the wake of World War 2.
It has nothing to do with the European Union, a trading bloc which is now made up of 27 members (so half the size of the Council of Europe) and which the UK is no longer part of.
What is the Rwanda policy again?
In April, Downing Street announced that, to tackle the influx of asylum seekers to British shores and supposedly to deter human traffickers, those who reached the UK through illegal means would soon be flown to East Africa.
The Home Office has created a scheme with Rwanda where these deported refugees would be given accommodation and support while their asylum application is considered by the Rwandan government.
If successful, they can stay for five years, receiving education and support from Rwanda.
If their bids fail, they can apply for other immigration routes but may still be deported.
Either way, they would not be able to fly the 4,000 miles back to the UK.
The policy immediately sparked debate, with campaigners launching legal challenges linked to modern slavery and human rights claims.
High profile figures including the Archbishop of Canterbury (and reportedly the Prince of Wales) have also waded into the debate, and called the government out for its "immoral" policy.
To reduce dangerous journeys to the UK we need safe routes: the church will continue …read more
Source:: The Huffington Post – UK Tec