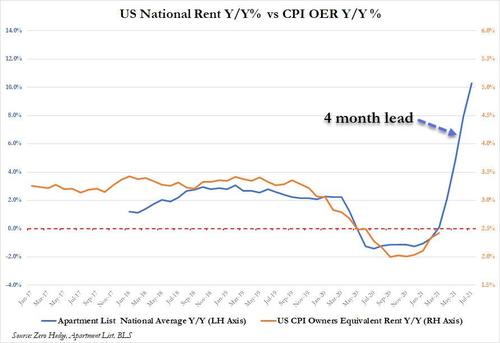 Some Good News: Rents Have Finally Peaked As Rental Market Enters "Widespread Cooldown"
Back in August, when the so-called experts (including the career economists at the Fed) were still convinced that inflation was transitory, we showed that realty was far scarier as true rents were only just starting to trickle through to the various CPI and PCE metrics, and while Owners' Equivalent Rent of residences, which makes up almost a quarter of the consumer price index, rose just 2.4% in July from a year earlier according tot he Fed, the real number – as divined from real-time national rent indicators such as that from Apartment List and Zillow – was much higher, perhaps as much as 5%. The OER figure "lags the reality" because it's based on a survey of homeowner expectations about what their home would rent for, said Mark Zandi, chief economist for Moody's Analytics
Fast forward to today when OER is now far higher, with shelter inflation having surged to 4% and rent inflation close behind…
… both numbers which still have a long way to go as they catch up to real prices.
But here we have some good news, because while the rent, shelter and OER prints reported by the CPI will still rise for the next 5 or 6 months, the actual rental market has now finally peaked.
According to the latest Apartment list data, the consultancy's national index fell by 0.2% during the month of December, marking the only time in 2021 when rents declined month-over-month. And while a slight dip in rents at this time of year is typical of seasonality in the market, it's especially notable after a year of record-setting growth, especially when considering that over the course of calendar year 2021, the national median rent increased by a staggering 17.8%. To put that in context, annual rent growth averaged just 2.3% in the pre-pandemic years from 2017-2019.
 As the chart below shows, December is also the fifth straight month in which monthly rent growth slowed after peaking at 2.7 percent in July. The current slowdown is capping a year that has been characterized by unprecedented price increases. For seven months from March through September, month-over-month rent growth exceeded the pre-pandemic record going back to 2017. In December, however, rent growth fell in line with …read more
Source:: Zerohedge.com
(Visited 1 times, 1 visits today)