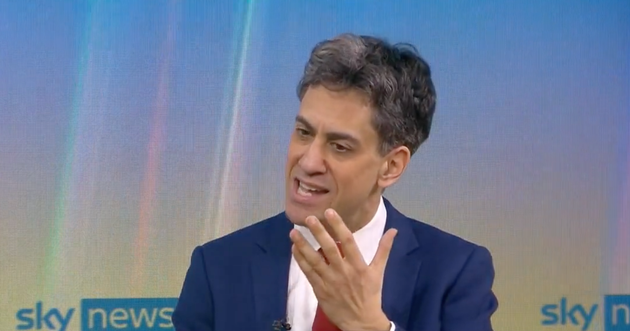 Ed Miliband was "lost for words' when discussing the latest claims that No.10 Downing Street hosted a drinks party in May 2020 – when the rest of the country was in lockdown.
The shadow climate change secretary was responding to the leaked email shared by ITV News which suggests the prime minister's principal private secretary invited more than 100 people to a garden party.
Reportedly, 30 to 40 people attended, bringing picnic food and drink. Boris Johnson and his wife Carrie are said to have been among them.
Representing Labour on Sky News on Tuesday, Miliband expressed his outrage about the allegations.
"This is so explicit, this is so clear," he told host Kay Burley.
"That's why – now that the truth is seeping out – he [Johnson] owes the British people the truth. He knows if he went to the party or not.
"He doesn't need Sue Gray, the person in charge of the inquiry, to tell him whether he went to the party.
"He either did go or he didn't go. And if he did go, he needs to explain himself."
Johnson was asked directly by reporters if he attended this reported gathering, but dodged the question by deferring it to the civil servant investigating it.
Huh wonder why he can't just say "no" pic.twitter.com/2CWs3IVfC0
— James Felton (@JimMFelton) January 11, 2022
Miliband did stop short of telling Johnson to resign, but admitted: "I think his position is very, very difficult."
He continued: "I'm saying to you, if he went to the party, in flagrant breach of the rules, I don't see how he can lead this country through the difficult decisions he needs to."
Asked how the leader of the opposition Sir Keir Starmer is going to hold the prime minister to account, Miliband replied: "This actually goes beyond party politics.
"Honestly, this is about what character we want for our prime minister."
He added: "I am quite lost for words, because I can't imagine – I wanted to be prime minister, I didn't succeed – but I couldn't imagine presiding over a culture of such rule-breaking and such arrogance.
"It's such arrogance of power that this speaks to you that you think you can send out a cabinet minister one minute, literally one minute, telling people, …read more
Source:: The Huffington Post – UK Tec
(Visited 1 times, 1 visits today)