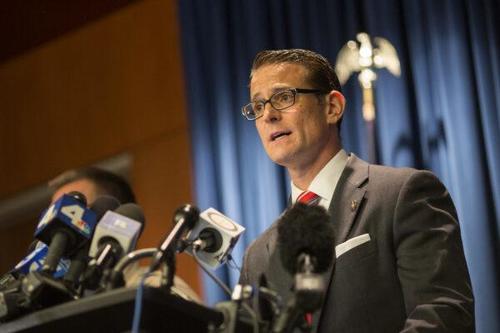 California Law Enforcement Continues To Fight Against Early Release For Violent Criminals
Authored by Drew Van Voorhis via The Epoch Times,
A number of law enforcement officials are continuing their fight against the early release of violent criminals following the court order that blocks state prison officials from doing so.
"[State officials] have it in their mind that releasing people from our institutions is somehow criminal justice reform, but it isn't," Riverside County District Attorney Mike Hestrin told The Epoch Times.
"There's a right way and a wrong way to reform institutions and simply saying we're going to open the doors of the prisons and the most dangerous individuals in our state are now going to be unleashed on an unsuspecting public, that's not criminal justice reform. It's a dangerous experiment being done on the people of California."
On Dec. 28, 2021, a temporary restraining order was granted to 28 different California District Attorneys by a Sacramento judge that prevents the early release of certain inmates after serving only a third of their sentences, as opposed to half.
Riverside County District Attorney Mike Hestrin speaks at a press conference in Riverside, Calif., on Jan. 18, 2018. (David McNew/Getty Images)
The California Department of Corrections & Rehabilitation (CDCR) implemented new regulations Jan. 1 that increases good conduct credits from 50 percent to 66 percent for eligible prisoners with nonviolent convictions, including repeat offenders.
However, the state classifies a number of seemingly violent crimes as "nonviolent," including domestic violence, human trafficking, animal cruelty, sexual assault, and gun violence.
"It's Orwellian to say that domestic violence is nonviolent," Hestrin said.
"These are just absurd results in our current state of the law."
Typically, good conduct credits are used to promote inmates doing something positive, such as firefighting or completing an education course, where depending on the credit, the inmate will get a reduction in their sentence.
But district attorneys across California are saying the good conduct credits are being abused by CDCR, and are instead allowing violent criminals to only serve one-third of their sentence.
"There has to be a sense of truth in sentencing," Hestrin said.
"When someone is sentenced to 15 years in prison … [and they] end up with a three- or four-year sentence, it's not right and it's not the right way to conduct a justice system."
Female prisoners from the California Department of Corrections help in …read more
Source:: Zerohedge.com
(Visited 2 times, 1 visits today)