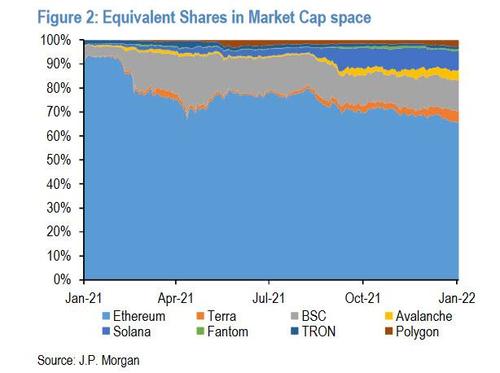 "In 10 Years Half Of All Financial Transactions Will Touch Ethereum" – Iconic Crypto Fund Responds To JPMorgan's Ethereum Hit Piece
Perhaps having grown tired of bashing bitcoin which had become one of his main pastimes for the past two years, JPMorgan quant (and rising in-house expert cryptoskeptic) Nick Panigirtzoglou shifted his attention to ethereum last week, and at the risk of infuriating his (very wealthy) web 3.0 clients, used his latest Flows and Liquidity report to slam the second biggest cryptocurrency by warning that it has "been losing market share in the DeFi space at a rapid pace over the past year."
And while he admits that the pace has (clearly) slowed in the second half of the year (as the chart below so vividly demonstrates), he then boldly predicts that "the share of ethereum in DeFi will likely drop further before Sharding is implemented in 2023" although it is very much unclear how he reaches this conclusion, and then proceeds to note that "the relative valuation of ethereum vs. its competitors has been echoing its declining DeFi share", because correlation in this case is clearly causation.
There is more in the full note (available to pro subs in the usual place) but you get the gist; and here is the one chart that he used to guide his whole narrative and goalseeked conclusion which may have been among the factors that hammered the price of ETH in the past week, sending it 40% below its all time high.
Not everyone was impressed by this painfully superficial "analysis" however, and on Sunday, Joey Krug, co-CIO at digital-asset investment firm Pantera Capital, tore apart JPM's hitpiece, telling Bloomberg that an explosion in the growth of crypto networks vying to take market share from Ethereum is unlikely to threaten the dominance of the world's most used blockchain, and what will happen instead is that ETH dominance will only grow in the coming years.
"If you roll the clock forward 10 to 20 years, a very sizable percent, maybe even north of 50%, of the world's financial transactions in some way, shape or form will touch Ethereum," Krug said in an interview, an outcome which all web 3.0 fanatics would find delightful.
To be sure, Krug is also talking his book, which is of course to be expected – he admitted that Ether is among Pantera …read more
Source:: Zerohedge.com
(Visited 1 times, 1 visits today)