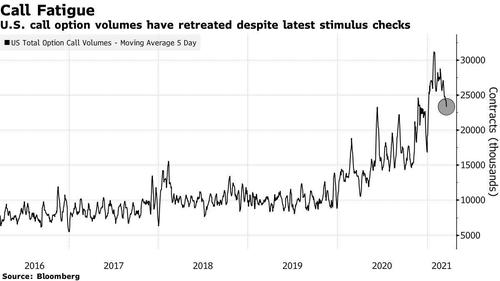 Collapse In Retail Investor Euphoria Points To "Imminent Correction", Vanda Warns
The last time retail participation in the market dried up, was back in May when three months after retail investors took the stock market by storm sparking a series of historic short squeezes in meme stonks such as GME and AMC, the money from various stimmies dried up and retail enthusiasm for stocks suddenly faded.
We discussed this on May 9 when we said "Retail Participation In Stock Trading Has Collapsed", and pointed to the plunge in call option volumes, which had emerged as the preferred investment vehicle for millions of GenZ and Millennial investors.
Perhaps coincidentally, our warning that day marked the top for the market for the next few weeks, with the S&P sliding some 200 points in just the next four days.
We bring this up because at a time when retail investors have become instrumental in propping up the market and buying each and every dip, this time around retail enthusiasm is once again fading.
Maybe it is because the S&P is at all time highs, or because retail euphoria has shifted to cryptos which have vastly outperformed even the most perky meme stonks, but as Vanda Research which tracks traffic on retail trading platforms and industry-wide order flows, the scale of retail interventions is getting smaller. This, according to the firms strategists, raises the chances of more serious declines if big investors continue to retreat.
"While we have seen a pick-up in ETF buying this week, the magnitude has been a little underwhelming relative to previous selloffs," Ben Onatibia and Giacomo Pierantoni wrote. "This diminishing appetite to support the equity rally raises the odds of a larger selloff if institutional investors continue to sell."
While this is especially bad news for apps like Robinhood whose entire business model depends on continued retail main, it is also bad news for bulls overall, as the army of retail traders has reliably shown up to buy broad ETFs at various points in 2021. And while they did so again in the five days through Tuesday, with $657 million of purchases, as Vanda's Onatibia and Pierantoni note in the chart below, such buying was between 35% and 100% larger during similar-sized drawdowns in July and August.
Here Bloomberg adds that while seasonal factors could be at play – …read more
Source:: Zerohedge.com
(Visited 1 times, 1 visits today)