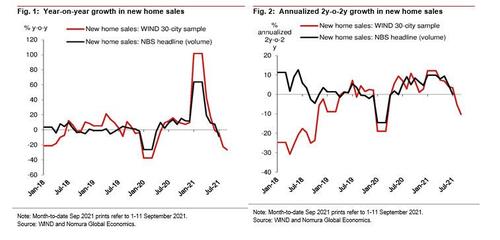 China's Economy Suddenly Disintegrates As Land Sales Crater 90%
One month after we warned that China had just unleashed a stagflation shockwave, as inflation – and especially factory price inflation – hit the highest in 13 years, crushing corporate profits, while GDP disappointed, and weeks after we also pointed out that China's credit growth in August had collapsed to the lowest level since the peak of the covid crisis in Feb 2020, Bloomberg writes in its economic preview of China's economic data dump scheduled for tonight that the country's economy "likely slowed further in August, with data on consumption, industrial output and investment due Wednesday to reveal the extent of the damage caused by an outbreak of the delta variant."
The extent of the slowdown will be closely watched for sign that it's serious enough to prompt authorities to change their current stance of slowly withdrawing liquidity from markets and keeping stimulus limited. The ongoing regulatory crackdown on sectors like education, the internet and property may have exacerbated the recent economic weakness.
And while Bloomberg expects substantial disappointments across the board for the month of August when China was hit hard by another round of covid restrictions, including disappointing consumption, property, infrastructure and unemployment data, the reality is that China may be this close to a hard landing.
The reason for that is that while it won't be featured in tonight's data lineup, high-frequency data – actual data, not that kind "filtered" by Beijing's National Statistics Bureau – points to an absolute disaster for China's property sector, which has imploded over the past two weeks (coinciding roughly with the terminal collapse of Evergrande).
According to Nomura, year-over-year growth in volume terms of new home sales, existing home sales and land sales dropped further to -26.6%, -46.6% and -38.3% in the first 11 or 12 days of September from -22.5%, -39.5% and -21.9% in August, respectively. It gets worse: land sales in value terms plunged to -90.4% y-o-y for 1-12 September from -65.0% in August. Some more details from Nomura:
New home sales growth data for WIND's 30-city sample serves as a good tracker of official NBS new home sales growth, thanks to their high correlation coefficient of 0.92 during the period from January 2018 to July 2021. Based on our estimates, year-on-year growth in new home sales (hereinafter in volume terms for new …read more
Source:: Zerohedge.com
(Visited 7 times, 1 visits today)