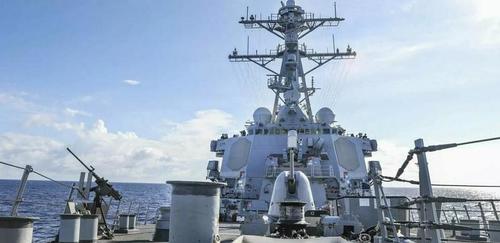 "Once The Situation Gets Out Of Control"- Chinese State Media Vows Its Military "Will Show Up At US Doorstep" And Will Win
China's state-run Global Times tabloid, which is viewed as representing the view of Beijing if with a hyperbolic slant, published an op-ed from its editorial board on Wednesday vowing that China's military will soon confront the U.S. in a hostile exchange, American Military News reported.
"The US will definitely see the PLA show up at its doorstep in the not-too-distant future," the op-ed said. "The two sides' warships and aircraft on the seas will carry huge mutual strategic hostility, and the two countries will not yield to each other."
"Once the situation gets out of control and triggers military clash between China and the US, we must give full play to our home field advantage. China will definitely win once there is a war," the Global Times op-ed said.
The op-ed came in response to U.S. Navy guided-missile destroyer USS Benfold conducting a freedom of navigation operation near the Mischief Reef in the Spratly Islands of the South China Sea on Wednesday, and follows China's recent abrupt change in protocol according to which starting Sept 1, all foreign vessels (read US warships) must "report their information" when passing through what China views as its "territorial waters" and which most of China's neighbors and Western nations consider contested.
"What the US has done is a naked provocation, and this is obvious to all," the Global Times op-ed said, adding that the ship "posed a threat" to the "many Chinese people and facilities" on the island.
The op-ed further called on China to take action. "Only by making the US have a taste of its own medicine can we touch the nerves of the US and its allies, and reshape the Western world's understanding of US bullying in the South China Sea," it said.
In response, the U.S. Navy 7th Fleet said the U.S. warship sailed in accordance with international law "within 12 miles of Mischief Reef," an area that China has heavily militarized and reportedly began flying military flights out of earlier this year.
"The land reclamation efforts, installations, and structures built on Mischief Reef do not change this characterization under international law. By engaging in normal operations within 12 nautical miles of Mischief Reef, the United States demonstrated that vessels …read more
Source:: Zerohedge.com
(Visited 12 times, 1 visits today)