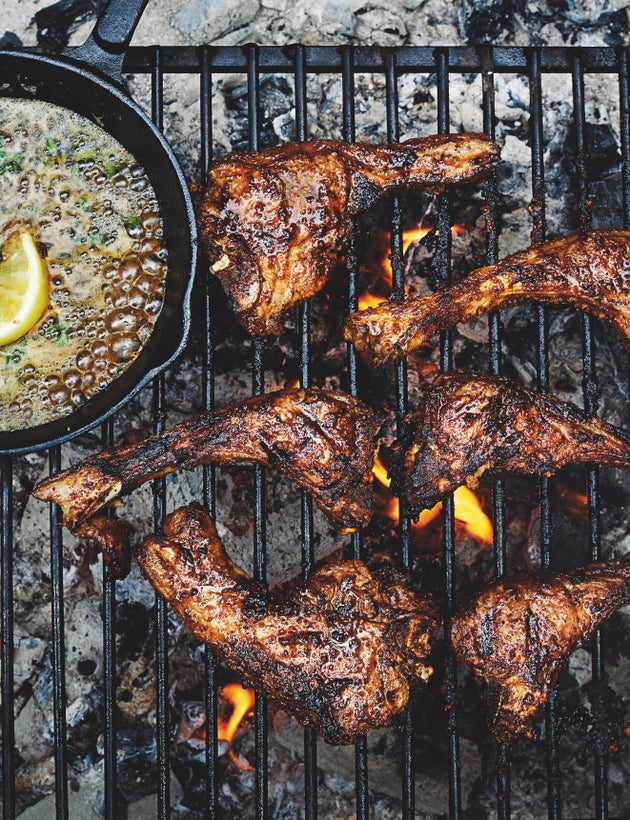 If you're looking to light up the coals this Easter weekend, take inspiration from the masters of the flames at Middle Eastern grill house, Berber & Q.
Chefs Josh Katz and Mattia Bianchi cook over live fire because it makes food taste better – the pair are all about honest cooking with "loud colours and big, bold flavours".
Thinking of shunning the classic sausage and burger combo when you dust off your BBQ? These three mouthwatering recipes – two meat dishes and a knock-out veggie plate – will tantalise those tastebuds, impress guests and really hit the spot.
Barbecued cumin lamb chops with anchovy butter
Serves 4
Ingredients
For the lamb chops:
½ onion, finely grated
2 tbsp full-fat natural yoghurt
2 tbsp ground cumin
tbsp olive oil
tbsp lemon juice
12 whole lamb chops, best end
For the cumin spice rub:
2 tbsp cumin seeds
½ tsp caraway seeds
½ tsp coarse ground black pepper
1 tbsp caster sugar
1 tbsp salt
tbsp smoked paprika
For the anchovy butter:
80g unsalted butter
garlic cloves, minced
2 tbsp lemon juice
10 anchovies in olive oil, finely chopped
tbsp picked lemon thyme leaves
Method
For the lamb chops:
Mix the onion, yoghurt, cumin, olive oil and lemon juice in a large bowl. Add the lamb chops and use your hands to massage the marinade into the meat, ensuring that each chop is well coated. Leave to marinate covered in the fridge for a minimum of two hours, or preferably overnight.
For the cumin spice rub:
Place the cumin and caraway seeds in a heavy-based pan. Toast over medium- high heat until smoking and fragrant but not burnt. Remove from the heat and transfer to a bowl, adding the pepper, sugar, salt and paprika. Stir to combine, then blend the spice mix to a powder using a spice or coffee grinder, or mortar and pestle. Set aside or store in an airtight container for up to 10 days.
For the anchovy butter:
Melt the butter in a small frying pan over medium-low heat, then add the garlic and fry to soften for a few minutes (being careful not to burn it). Whisk the butter gently as it cooks, until it darkens to a nut-brown, about 4–5 minutes, then add the lemon juice, anchovies and lemon thyme. Continue to cook for a few minutes before turning off the heat. Set aside, reheating when ready to serve.
To finish the lamb chops:
Set a barbecue up for single-zone, direct grilling – ensuring that you are cooking on hot embers. Scrape off the excess marinade, dredge the chops in …read more
Source:: The Huffington Post – UK Tec
(Visited 1 times, 1 visits today)