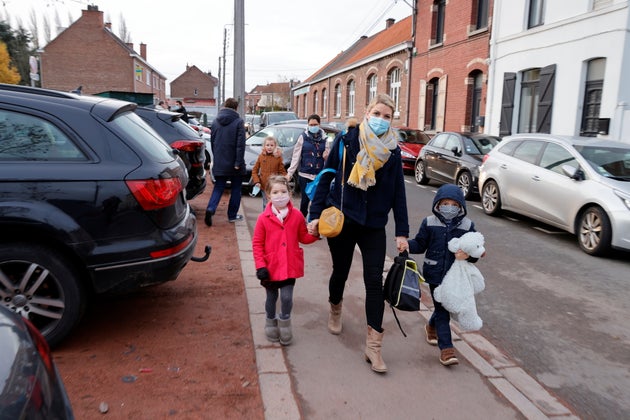 While England's schoolchildren have been cooped up at home for the entirety of 2021 so far, some of their counterparts across on the continent have been back for weeks – albeit in a manner that would have been alien one year ago.
How to reopen schools without causing further spikes in Covid cases is a problem faced by governments across Europe, and all are taking different approaches.
Boris Johnson told MPs on Monday that all pupils in all year groups can go back to the classroom from March 8, with outdoor after-school sports and activities also allowed to restart.
Face masks are recommended for students in secondary schools, and those same students will be tested for Covid-19 twice a week.
The mass testing of secondary school students had been planned and was ready to implement for what was the aborted reopening of schools in the New Year.
Instead it was only used for children of vulnerable parents and key workers who were still allowed to attend school. Lateral flow tests, which can give results in 30 minutes, have been administered twice a week, three to five days apart.
Here's what England can learn from its European neighbours.
France
Schools and shops are open but cafes, restaurants and bars are shut, along with theatres, cinemas, museums and galleries. A nationwide curfew is in place between the hours of 6pm and 6am. 
No date has been set for re-opening. 
Beginning this week, France will carry out between 50,000 to 80,000 tests on students, rising to 200,000 next week, with an emphasis on testing pupils returning from the February school holidays.
Using saliva tests, students will be required to spit into a tube from a kit, at school or at home. The sample is then analysed during the day with a final result within 24 hours. 
The saliva tests have been a priority for France's national education minister, Jean-Michel Blanquer, who fears infection rates in schools could increase after the French "winter break" – a week-long February holiday, similar to half-term, that is staggered over three different weeks depending where in France you live.
The French government decided to reopen schools after Christmas, despite infection rates remaining high across the country. 
This saliva test, which avoids a nasal or throat swab, has a sensitivity of 85%. Students are told not to take their sample within 30 minutes of eating or brushing their teeth. For children under six, saliva can be collected …read more
Source:: The Huffington Post – UK Tec
(Visited 1 times, 1 visits today)