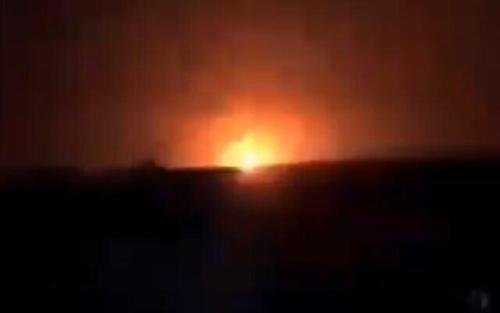 Israel Launches "Deadliest Airstrikes In Years" On Syria With US Intelligence Coordination
The Washington Post is calling the latest overnight Israeli airstrikes on Syria an "unusually intense" attack on "Iranian positions" there, while The Guardian is reporting "the deadliest airstrikes on Syria in years" which killed 57 Syrian government and Iraqi militia troops.
The airstrikes reached deep into the country near the Syria-Iraq border in Deir Ezzor province, with the targets said to have been arms depots and military positions. The site is also considered a key weapons transit point between Syria and its allies in Iraq and Iran. 
Syrian state media identified the area as in the vicinity of Albu Kamal while saying damage is still "being assessed".
The Israeli operation appears connected to Trump's continued pressure campaign against Iran during his last week in the White House. According to an American intelligence source cited in Fox News:
A senior U.S. intelligence official with knowledge of the attack told The Associated Press that the airstrikes were carried out with intelligence provided by the United States and targeted a series of warehouses in Syria that were being used as a part of the pipeline to store and stage Iranian weapons.
The official said the warehouses also served as a pipeline for components that supports Iran's nuclear program.
The casualty count is uncertain and varying, but Fox also confirmed it as "massive" with up to 18 missile strikes along the border targeting several arms depots.
It's been widely reported that Secretary of State Mike Pompeo recently met with the head of Israeli Mossad, possibly to coordinate just such an attack.
Wait, so Pompeo actually discussed the strike that killed 57 people on the #Syria-n #Iraq-i border in a cafe? https://t.co/ux0uFRi9Ch
— Nabih (@nabihbulos) January 13, 2021
Israeli sources further called it a clear "message" to Iran before Biden enters office:
The head of the Israeli National Security Research Institute, Major General (res.) Amos Yadlin, said that behind its bombing of Syria's Deir Ezzor Governroate, Tel Aviv wanted to convey a message to Iran.
In a statement to Israel's official Kan news channel, Yadlin said that the attack carried out by Israel in the Deir Ezzor Governorate is "important and the message to Iran is that Israel will not stop working (against Iran and Syria) even during the era of (US President-elect Joe) Biden."
"Tonight's attack …read more
Source:: Zerohedge.com
(Visited 5 times, 1 visits today)