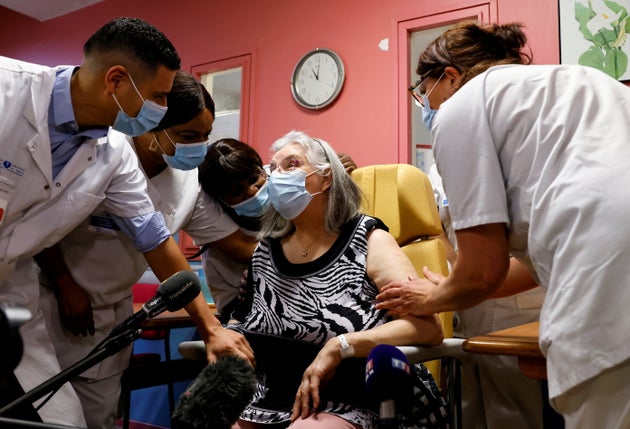 A needle in the arm of Brian Pinker in Oxford University Hospital at 7:30am on Monday marked yet another milestone in the global fightback against coronavirus.
The 82 year-old retired maintenance manager became the first person in the world to receive the Oxford AstraZeneca vaccine, the second type of jab to be authorised for use against Covid-19 in the UK, which has now carried out almost one million injections since December 8.
The approval and delivery of the homegrown Oxford jab comes amid criticism of the government over the vaccination plan for "failing to protect the workforce", with doctors and nurses claiming they have been left in the dark about how to get the vaccine.
The vaccine stakes have now increased even further with Boris Johnson's announcement on Monday night that England would enter a third lockdown, with all schools to close immediately.
But across the Channel, Europe is facing its own vaccine crisis, with governments accused of "amateurism" after a series of setbacks reduced vaccinations to a trickle, just as infection rates continue to spiral.
'State scandal'
In France, the stuttering rollout has been described as a "state scandal", "fiasco" and a "disaster". As of January 3, just 516 people had received the jab since Pfizer/BioNTech vaccinations began in Europe on December 27. 
"It destroys me, what a form of unpreparedness! It's a state scandal," Jean Rottner, the president of France's Grand Est region, said on Monday. 
While the picture is improving elsewhere in Europe, rates still lag well behind the 944,539 official UK number. As of Monday, Germany had vaccinated around 266,000 people, Italy almost 180,000, while just 83,000 of the 718,000 vaccines distributed in Spain have been used.
By comparison, more than a tenth of Israel's population have had a vaccine, and the country is now administering more than 150,000 doses a day, Reuters reports. The US Centers for Disease Control and Prevention said it had administered 4,225,756 first doses as of Saturday morning, but well below the target of 20 million by the end of 2020.
Embarrassed by the stark global comparisons and facing criticism from both scientists and politicians, French President Emmanuel Macron has told people close to him "things must change fast and hard," the weekly Journal du Dimanche reported on Sunday.
Opposition politicians in France have blamed a lack of …read more
Source:: The Huffington Post – UK Tec
(Visited 1 times, 1 visits today)