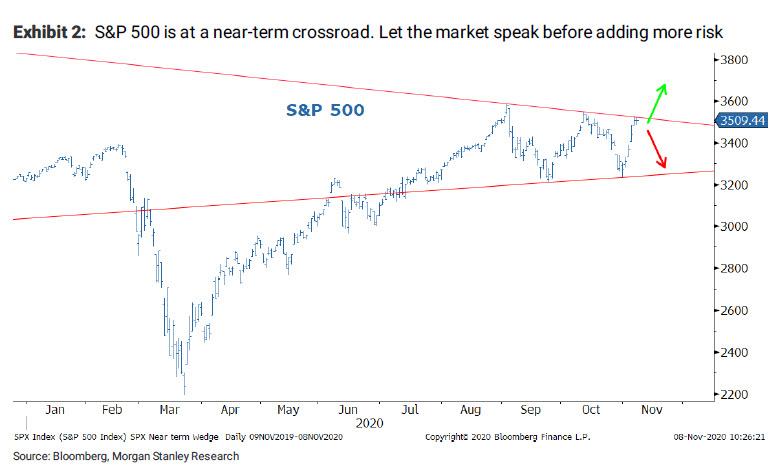 Why Wall Street's "Most Accurate Analyst" Expects Another Market Correction Before Year-End
Tyler Durden
Sun, 11/22/2020 – 14:30
Two weeks ago we dubbed Morgan Stanley's Michael Wilson, the bank's chief US equity strategist, Wall Street's most accurate forecaster. Here's why:
Over the past year, Morgan Stanley's Michael Wilson has done something virtually none of his colleague have been able to do: he called market moves correctly before they happened and also timed the market's inflection points with uncanny precision: turning bullish at the depths of the March crisis, when most of his peers were apocalyptic, then remaining bullish until just over a month ago, when he warned "brace for a very difficult trading environment over the next five weeks" – which followed with the early September tech dump – and then two weeks after he again correctly predicted that US stocks were due for their second 10% correction in as many months as "investors were a bit too complacent on the uncertainty surrounding the election outcome, unlikely passage of a fiscal stimulus before the election and second wave of Covid-19", the S&P 500 has indeed fallen 9% while the Nasdaq and Russell 2000 have fallen 10% and 7%, respectively.
He was, again, right.
Then, at the start of November, he reversed his bearish bias, when as we reported he predicted that "the correction we expected is now mostly finished and adding to equities on further weakness this week is recommended."
Since then, the S&P is up +13.5% to a new all time high, the Nasdaq is up +10.8% also to a record high, and after today's Pfizer news, the Russell has exploded 16% higher.
In short, he was right again.
As we also pointed out, just ahead of the "Pfizer vaccine" news,  Wilson said he remained a "committed bull" even though the S&P had broken above his price range of 3,150 to 3,550, although with the index having faded much of its record gains in the past two weeks, it now appears that most of the "good news" associated with a covid vaccine has been priced in.
The biggest question, however, is whether now that the resistance trendline has been broken, does Wilson think it's time to take profit or go even longer. The answer is two-fold.
As Wilson writes in Morgan Stanley's latest "Sunday …read more
Source:: Zerohedge.com
(Visited 4 times, 1 visits today)