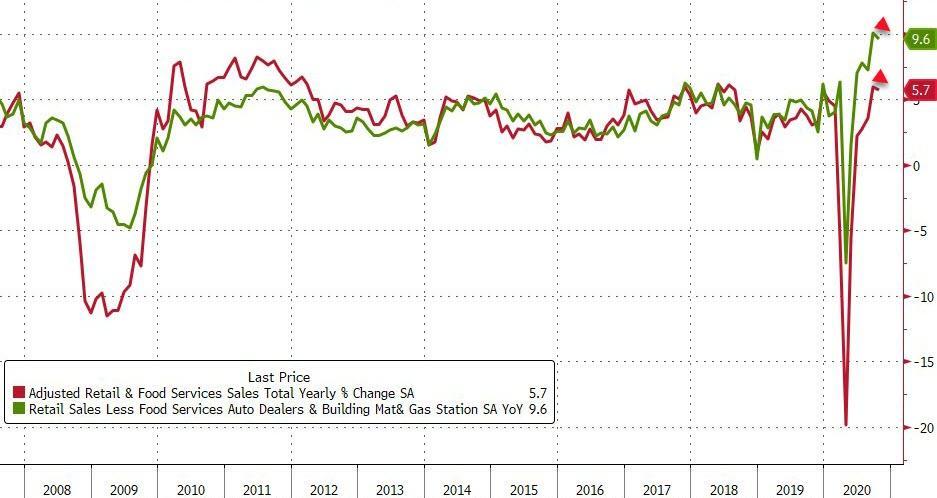 Struggling Retailers Owe $52 Billion In Overdue Rents 
Tyler Durden
Sat, 11/21/2020 – 22:30
The virus pandemic – with its temporary and permanent store closures, strict social distancing requirements, e-commerce boom, and supply chain disruption – since March has fueled uncertainty among US retailers as many find themselves in a $52 billion hole.
Bloomberg, citing new data via CoStar Group Inc., outlines how restaurants, gyms, and other businesses have accumulated insurmountable rent payments that have been deferred for months. This has resulted in landlords demanding outstanding balances be immediately paid, could drive some retailers into bankruptcy.
"You're going to have big bubbles that are going to be hitting next year or even in the fourth quarter," said Andy Graiser, co-president of A&G Real Estate Partners, an advisory firm. "I'm not sure if they are going to be able to make those payments in addition to their existing rent."
The problem with overdue rents, totaling $52 billion as of November, is that retail sales growth in October slumped and is expected to wane into year-end. 
Furthermore, coronavirus cases are exponentially increasing in almost every US state. Local governments across the country are reimposing strict social distancing measures that will stymie retail sales and increase the threat of a double dip recession. 
CoStar reveals the amount of rent collected from retailers rose from 54% at the end of April to 86% this month. Only 79% of rent due this month for malls was collected.
"It's going to take a period of years, not months, to get through this," said Michael Hirschfeld, vice chairman at JLL, a real estate services firm.
From Signet Jewelers Ltd. to Red Robin Gourmet Burgers Inc. to Bed Bath and Beyond, Bloomberg lists the major retailers who have deferred rent payments. Their unpaid rents total in the tens of millions of dollars per company – the question, with slumping retail sales and a virus pandemic that continues to rage – how will these retailers ever pay back past rents? 
Signet Jewelers Ltd., for one, deferred about $78 million of its rent payments, according to a September quarterly filing. In its most recent quarterly filing, Bed Bath & Beyond Inc. said it's held back $50.6 million in rent payments and is in negotiations with landlords, while Francesca's Holdings Corp. has said it owed $14.6 million in deferred rents …read more
Source:: Zerohedge.com
(Visited 1 times, 1 visits today)