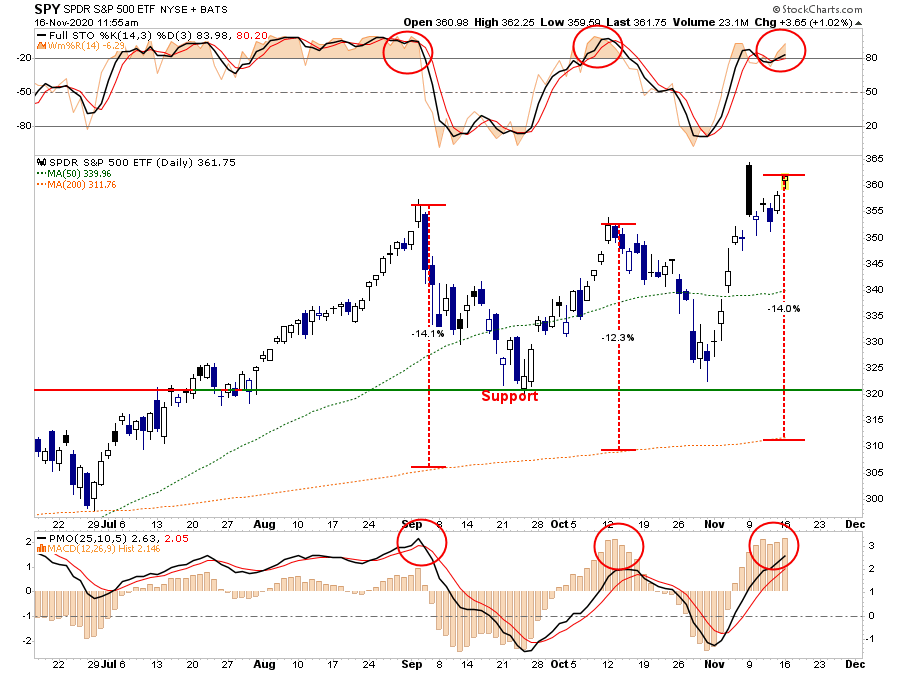 Bulls Go Ballistic – Time To Reduce Risk
Tyler Durden
Tue, 11/17/2020 – 14:00
Authored by Lance Roberts via RealInvestmentAdvice.com,
In this past weekend's newsletter, we discussed the exceedingly deviated price and overbought conditions. When we combine the technical backdrop with the "bulls going ballistic," it once again makes sense to reduce risk in our portfolios.
"The rally from the October lows was a 'sellable rally.' The current rally is as well. Given the more overbought condition, we expect a one to two-week correction at the beginning of December as mutual funds make their annual distributions.
While it is feasible, the markets will end the year positively; we will likely see a better entry point first. "
These more extreme overbought, extended conditions rarely last long. We reduced our risk exposure in our portfolios yesterday morning via RIAPro.net:
"The market has gotten back to more extreme overbought, extended and bullish levels. Historically, such a setup has led to short-term corrections, or worse.
While the vaccine news this morning is certainly welcome, the markets have already priced much of that into stocks currently. Considering a vaccine won't be widely available to mid-to late-next year, the economic weakness will continue to weigh on profitability for now.
As such, we are taking profits in some of our more egregiously extended positions and will use a post-Thanksgiving correction to add back to holdings at a cheaper level."
Risk Begets Risk
Not surprisingly, I received more than a few emails chastising me for "bailing on the bull market, which is going higher." 
Such is hardly the case. We reduced our weighting in some of the companies which have had substantial gains over the last year. We remain primarily long-biased in our portfolios, but given the extreme technical overbought and deviated conditions; it was prudent to raise some cash and protect our gains.
Interestingly, such was also a point made in this past weekend's newsletter:
When people believe that they need to take 'a little more risk' to generate greater returns, they may be making a very BIG mistake if they underestimate what 'risk' really means to them."
As we noted in "Moral Hazard," the Federal Reserve believes that insuring people against investment losses is a dangerous one. While investors are encouraged to take more risk currently, as prices rise, they begin to disregard risk for what it is.
When people take "a little risk" and get rewarded for it, …read more
Source:: Zerohedge.com
(Visited 1 times, 1 visits today)