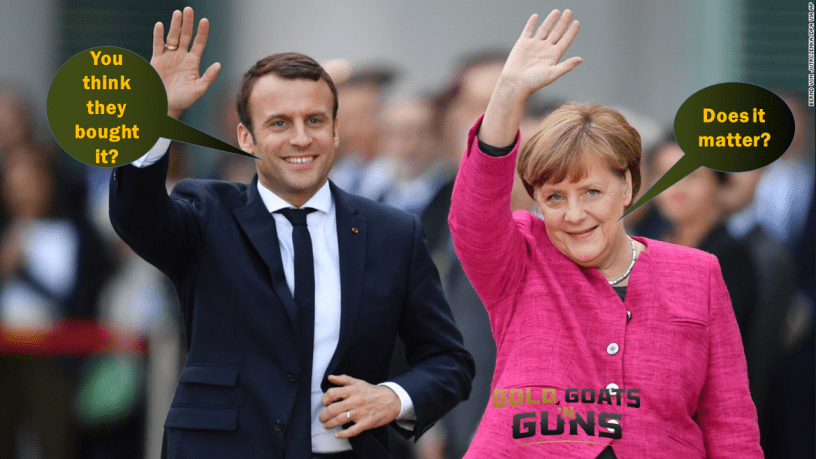 Who's Afraid Of A No-Deal Brexit?
Tyler Durden
Sun, 10/18/2020 – 07:00
Authored by Tom Luongo via Gold, Goats, 'n Guns blog,
To answer the question in the title… not Boris Johnson. If anything Johnson's plan from the beginning has been to maneuver events to this state.
The latest news is that Boris just left his final offer on the table for the EU, walked away from talks but left the door open.
Johnson's spokesman said shortly afterwards that talks were now over and there was no point in the EU's chief negotiator Michel Barnier coming to London next week barring a change in approach.
"The trade talks are over: the EU have effectively ended them by saying that they do not want to change their negotiating position," his spokesman said.
Johnson's brinkmanship, which follows an EU demand that London make further concessions, may push Brexit towards disorder, though he still left open the possibility that the EU could reconsider and offer Britain a better deal.
"Unless there is a fundamental change of approach, we're going to go for the Australia solution. And we should do it with great confidence," he said.
The Australia solution is No-Deal and WTO terms.
BREAKING: UK Government source says Lord Frost has spoken to Barnier and told him not to bother coming to London on Monday for more talks.
— Adam Parsons (@adamparsons) October 16, 2020
The latest public stumbling block to a Brexit deal is French President Emmanuel Macron's insistence on France plundering U.K. fishing waters in any trade deal.
In truth that is the lamest excuse for not agreeing to a deal I could think of. But, then again, since Johnson destroyed the EU's biggest political wedge issue, the Northern Irish border with a simple restatement of U.K. Parliamentary sovereignty, what else does Macron have to stand on?
It turns out all he's got is a really big soap box, but no leverage.
And that begs the question of why fishing "rights?"
This takes me back to the end of last year when I asked the more salient question, "Did Johnson and Macron Negotiate a Hard Brexit in October?"
Here are the reasons why they did.
The key to understanding what's happening is the ever-shifting dynamic between France, Germany and the U.K. in relation to their relationship with the United States.
Macron is pushing France to …read more
Source:: Zerohedge.com
(Visited 3 times, 1 visits today)