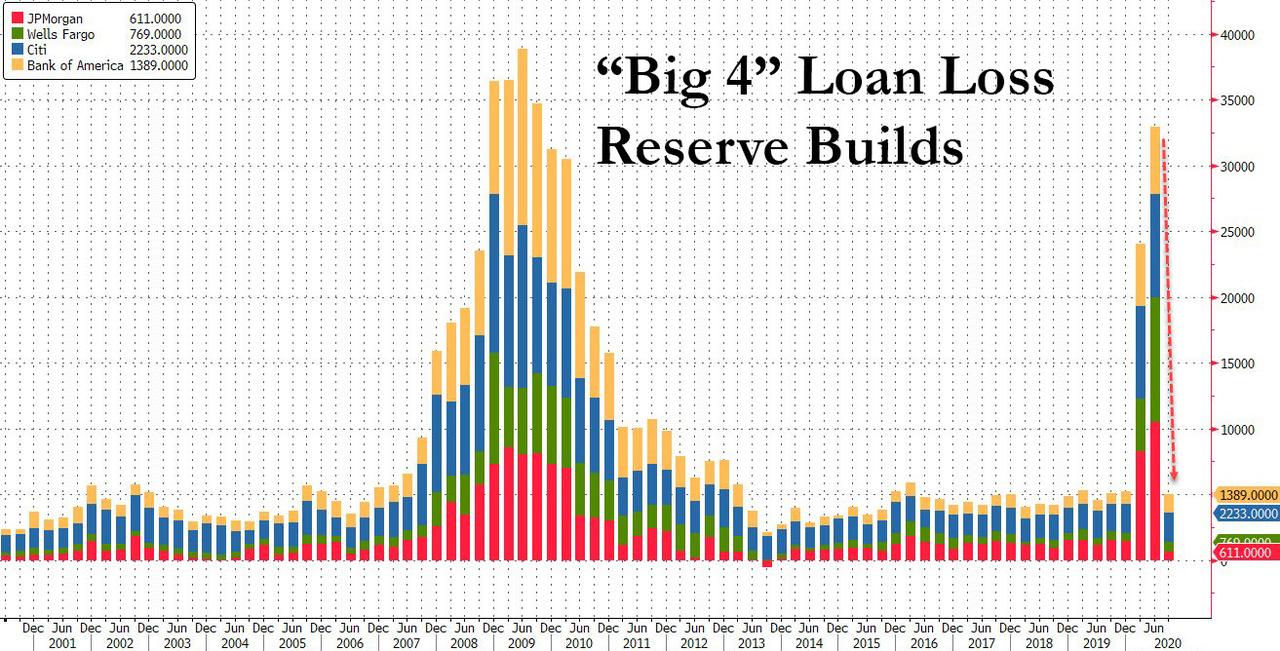 The One-Chart Summary Of All That Is Wrong With The US Financial System: Deposits Over Loans
Tyler Durden
Sun, 10/18/2020 – 17:25
Now that the big banks have concluded their earnings season, with the top highlight being the collapse in loan loss reserve builds from $33 billion in Q2 to just $5 billion in the quarter ended Sept 30…
… in what some have taken as a vote of confidence for the economy as bank risk managers clearly don't anticipate another sharp leg lower in the economy (that may change if a second wave of covid forces new shutdowns), we can take a closer look at some of the other, just as notable observations within the US financial sector.
First, we looked at the amount of total loans across the 4 megabanks, where for the second consecutive quarter aggregate loans declined after the Q1 surge (which as a reminder was driven almost entirely by revolver drawdowns, which have since been refinanced by bonds and other debt instruments).
Those who have followed our reporting on the surge in bank lending standards, which recently spiked to levels not seen since the financial crisis, will not be surprised by the ongoing freeze in loan issuance: after all, banks remain terrified about lending across most verticals, including C&I, consumer (credit card and auto loans) and residential and commercial real estate.
Yet while the continued flatlining in US bank loans – which haven't budged in the past two years and have barely increased since the financial crisis – is explainable, it is nonetheless quite troubling: after all, if there is neither supply nor demand for loans, the economy simply won't grow, period. It's also why the velocity of money will be catastrophic and is approaching that monetary "singularity" of 1 for the first time ever.
However, while it is hardly surprising that loan growth has refused to pick up during the worst economic depression since the "Great" one, what is certainly remarkable is when one looks at the corresponding bank liability: deposits. Here, there is no such problem, and in fact, in recent quarter (and years), deposits have exploded higher and continued to do so last quarter too.
Why is this notable? Well, for one, it …read more
Source:: Zerohedge.com
(Visited 1 times, 1 visits today)