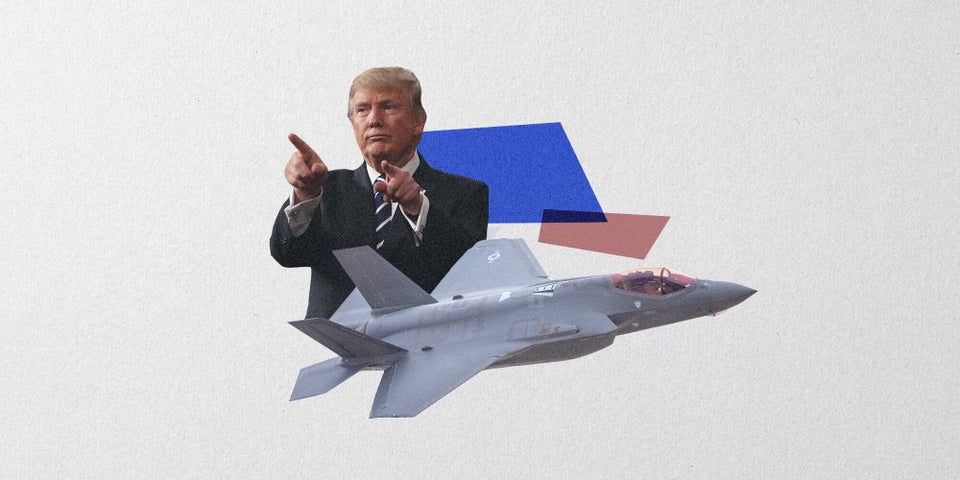 On March 20, 2018, President Donald Trump sat beside Saudi crown prince Muhammed bin Salman at the White House and lifted a giant map that said Saudi weapons purchases would support jobs in "key" states — including Pennsylvania, Michigan, Florida and Ohio, all of which were crucial to Trump's 2016 election victory.
"Saudi Arabia has been a very great friend and a big purchaser of equipment … but if you look, in terms of dollars, $3 billion, $533 million, $525 million — that's peanuts for you. You should have increased it," Trump said to the prince, who was (and still is) overseeing a military campaign in Yemen that has deployed US weaponry to commit scores of alleged war crimes.
Trump has used his job as commander-in-chief to be America's arms-dealer-in-chief in a way no other president has since Dwight Eisenhower, as he prepared to leave the presidency, warned in early 1961 of the military-industrial complex's political influence. Trump's posture makes sense personally ― this is a man who regularly fantasises about violence, usually toward foreigners ― and he and his advisers see it as politically useful, too. The president has repeatedly appeared at weapons production facilities in swing states, promoted the head of Lockheed Martin using White House resources, appointed defence industry employees to top government jobs in an unprecedented way and expanded the Pentagon's budget to near-historic highs ― a guarantee of future income for companies like Lockheed and Boeing.
Trump is "on steroids in terms of promoting arms sales for his own political benefit," said William Hartung, a scholar at the Centre for International Policy who has tracked the defence industry for decades. "It's a targeted strategy to get benefits from workers in key states."
In courting the billion-dollar industry, Trump has trampled on moral considerations about how buyers like the Saudis misuse American weapons, ethical concerns about conflicts of interest and even part of his own political message, the deceptive claim that he is a peace candidate. He justifies his policy by citing job growth, but data from Hartung, a prominent analyst, shows he exaggerates the impact. And Trump has made clear that a major motivation for his defence strategy is the possible electoral benefit it could have.
Next month's election will show if the bargain was worth it. As …read more
Source:: The Huffington Post – UK Tec
(Visited 1 times, 1 visits today)