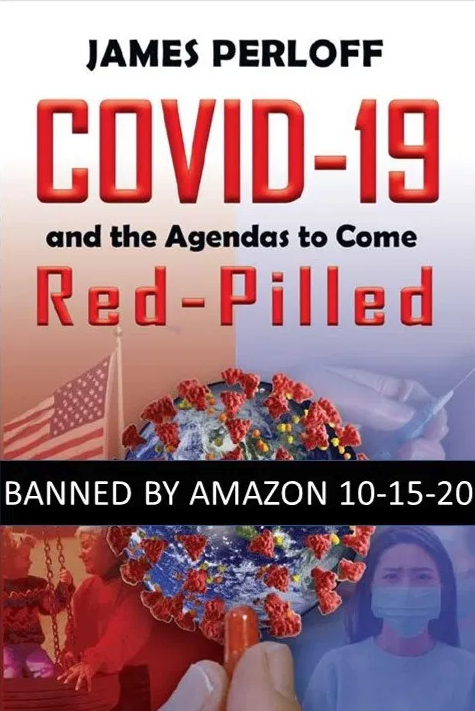 "A Truly Orwellian Culture" – Amazon Removes COVID Skeptic's Book For Violating Content Guidelines 
Tyler Durden
Sun, 10/18/2020 – 09:55
Around the time Twitter purged New York Post's bombshell stories about Hunter Biden from its platform, late last week, Amazon was busy censoring any criticism against the "official" COVID-19 narrative, with the banning of at least one book from its Amazon Books store. 
Political writer James Perloff's latest book, "Covid-19 and the Agendas to Come: Red-Pilled," was removed from Amazon on Thursday, he tweeted. 
"BAD NEWS. After selling over 3,500 copies for Amazon since publication on August 20, Amazon has banned my book "COVID-19 and the Agendas to Come, Red-Pilled." Individual orders can still be placed at…" Perloff tweeted. 
Book: "Covid-19 and the Agendas to Come: Red-Pilled" 
Perloff spoke with RT News about the incident, which he outlined how Amazon's act of censorship validates his book's findings, expressing concern that "the censorship on Covid has been getting progressively stronger, even as the death rate from Covid has been getting progressively lower."
"We are in a truly Orwellian culture," he warned. 
Perloff said Amazon contacted him on Thursday, asking him to "clarify [his] rights to the book" – something he said was already completed in August when the book went up for sale on the e-commerce platform. As RT explains:
"But before he could finish gathering the material required to prove once again that he owned the global rights to his own work, he received another email from Amazon, this time claiming they had removed his book "during a quality assurance review of [his] catalog" because it "violated content guidelines."" 
Amazon's Response To Perloff
He then "asked them [Amazon] to specify what guidelines [he] had violated," they responded that the book violated "our content guidelines."
"We reserve the right to determine whether content provides a poor customer experience and remove the content from the sale," Amazon said. 
After that, Amazon deleted the book from its platform. Using an embedded link on Perloff's website, directing people to purchase the book on Amazon, one can see below by clicking on the link, that the Amazon page selling the book no longer exists. 
According to RT, and perhaps why Amazon removed the book, is that it "traces how the Covid-19 pandemic has been used by governments around the world to force draconian social control measures …read more
Source:: Zerohedge.com
(Visited 2 times, 1 visits today)