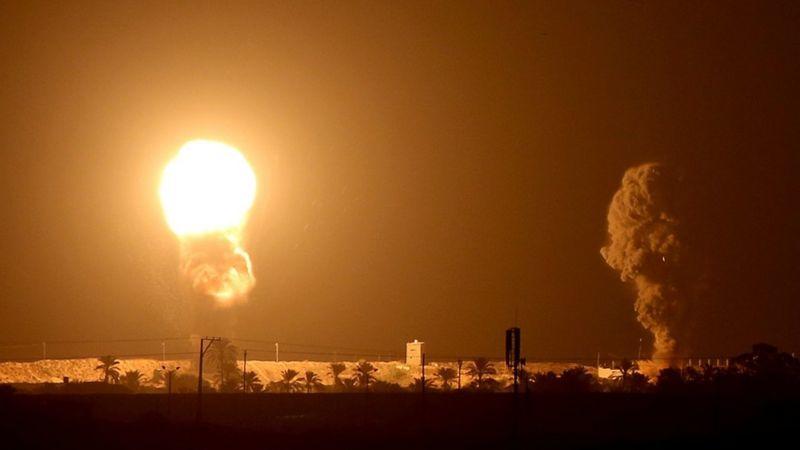 Hamas Rockets Rained Down On Southern Israel At Moment UAE Peace Deal Signed
Tyler Durden
Wed, 09/16/2020 – 20:30
During the signing of the Abraham Accords Peace Agreement at the White House Tuesday, which is the first ever historic Treaty of Peace, Diplomatic Relations and Full Normalization Between the United Arab Emirates and the State of Israel, Hamas rockets rained down on communities in southern Israel. 
"Thirteen people were injured after two rockets were fired from the Gaza Strip towards Ashkelon and Ashdod in southern Israel on Tuesday," The Jerusalem Post reports. "Rocket sirens sounded as Prime Minister Benjamin Netanyahu signed normalization deals with the United Arab Emirates and Bahrain. One of the rockets was intercepted by the IDF."
Israel was quick to respond in airstrikes overnight and into the early hours of Wednesday morning.
Considering that during past volleys of rocket fire out of the Gaza Strip, most projectiles fail to hit any target and instead fall into the desert, the high injury rate from Tuesday night's attack points to most of these rockets striking residential areas in Israel. 
Gaza's Islamist armed factions confirmed the rocket fire was in response to the Israeli-UAE deal, which includes Bahrain as well, and had declared Tuesday a Palestinian "day of rage":
Hamas spokesperson Hazem Qassem responded to the normalization deals shortly after the rockets were fired from Gaza, saying that "the normalization agreements between the UAE and Bahrain with the Zionist entity are not worth the ink with which they were written – and our people, with their insistence on the struggle until the full recovery of their rights, will deal with these agreements as if they were non-existent," according to Palestinian media.
"A question to the United States of America, Israel, Bahrain and the UAE: Will the signing of the normalization agreement at the White House now prevent these missiles from leaving Gaza tonight to Israel?" asked senior Fatah official Monir al-Jaghoub in response to the deals and rocket fire. "Peace begins in Palestine and war begins in Palestine."
In the early hours of Wednesday morning the Israeli Defense Forces (IDF) confirmed it responded by conducting at least ten air strikes on Hamas targets throughout the strip.
At least two people were wounded in the southern coastal city of #Ashdod, #Israel, by rocket fire from Hamas-controlled
Source:: Zerohedge.com
(Visited 1 times, 1 visits today)