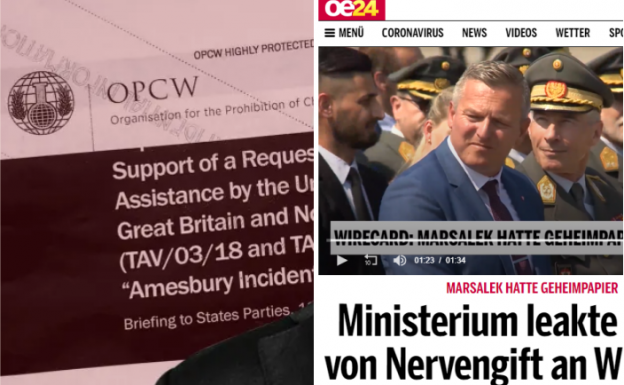 Austria Confirms OPCW Report On Skripal-Faking By The British, Exposes FT Lies & Cover-Up
Tyler Durden
Sun, 08/02/2020 – 08:10
Authored by John Helmer via Dances With Bears blog,
Austria officially confirmed this week that the British Government's allegation that Novichok, a Russian chemical warfare agent, was used in England by GRU, the Russian military intelligence service, in March 2018, was a British invention.
Investigations in Vienna by four Austrian government ministries, the BVT intelligence agency, and by Austrian prosecutors have revealed that secret OPCW reports on the blood testing of Sergei and Yulia Skripal, copies of which were transferred to the Austrian government, did not reveal a Russian-made nerve agent.
Two reports, published in Vienna this week by the OE media group and reporter Isabelle Daniel, reveal that the Financial Times publication of the cover-page of one of the OPCW reports exposed a barcode identifying the source of the leaked documents was the Austrian government. The Austrian Foreign Ministry and the Bundesamt für Verfassungsschutz und Terrorismusbekämpfung (BVT), the domestic intelligence agency equivalent to MI5 or FBI, have corroborated the authenticity of the documents.
The Austrian disclosures also reveal that in London the Financial Times editor, Roula Khalaf, four of the newspaper's reporters, and the management of the Japanese-owned company have fabricated a false and misleading version of the OPCW evidence and have covered up British government lying on the Skripal blood testing and the Novichok evidence.
On Wednesday afternoon this week, OE24, a news portal of the OE media group in Vienna, broke the first story (lead image, right) that the barcode found on the OPCW document photograph published in London had been traced to several Austrian state ministries. The next day, OE political editor Isabelle Daniel reported the Austrian Foreign, Defence and Economics Ministries had received copies of the barcoded OPCW dossier, and that the Justice Ministry and prosecutors were investigating "potential moles".
Daniel also quoted a Foreign Ministry source as saying its copy of the documents had been securely stored in its disarmament department safe, and that there were "no tips" the leak had come from there. Daniel also quoted a BVT spokesman as confirming the authenticity of the OPCW file had been verified. "We have checked it recently. Officially it has not come to us."
Source:: Zerohedge.com
(Visited 3 times, 1 visits today)