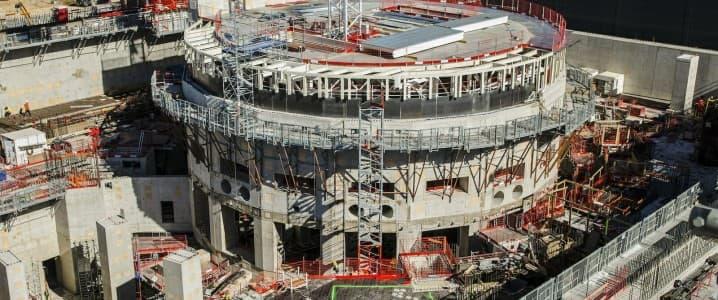 The World's Largest Nuclear Fusion Reactor Is Finally Being Built
Tyler Durden
Fri, 07/31/2020 – 18:45
Authored by Alex Kimani via OilPrice.com,
What do The Dark Knight Rises, Back to the Future, Oblivion, and Interstellar have in common?
They are sci-fi megahits that showcase a technology that scientists consider the Holy Grail of Energy: Nuclear fusion.
Since the 1950s, moviegoers, scientists, and clean-energy buffs everywhere have obsessed about the vast possibilities of harnessing the almost inexhaustible supply of energy locked within atoms by creating our own miniature suns. Unfortunately, practical nuclear fusion technology has remained just that–a dream and a far-off mirage.
That is, until now.
After 35 years of painstaking preparation and countless delays, scientists have finally broken ground by kicking off the five-year assembly phase of the massive International Thermonuclear Experimental Reactor (ITER), the world's largest fusion reactor, in Saint-Paul-les-Durance, France.
Funded by six nations, including the US, Russia, China, India, Japan, and South Korea, ITER will be the world's largest tokamak fusion device with an estimated cost of ~$24 billion and capable of generating about 500 MW of thermal fusion energy as early as 2025.
Practical Fusion Power
Initially, the United States and the former Soviet Union were the first countries to conduct fusion research due to its potential for the development of atomic weapons. Consequently, fusion technology remained classified until the 1958 Atoms for Peace conference in Geneva. Fusion research became 'Big Science' in the 1970s thanks to a breakthrough at the Soviet tokamak.
However, it soon became clear that practical nuclear fusion would only make the desired progress through international cooperation due to high costs and the complexity of the devices involved.
Nuclear fusion basically involves smashing together hydrogen atoms hard enough to form helium and release energy in the E=MC2 mass-energy equivalence. Fusion is the process through which all stars, from red dwarfs through the Sun to the most massive supergiants, generate vast amounts of energy in their cores by rising to temperatures of 4,000,000 K or higher.
Nuclear fusion generates four times as much energy from the same mass of fuel as nuclear fission, a technology that involves splitting atoms that is currently employed in the world's nuclear reactors. Massive gravitational forces in the Sun and stars create the right conditions for fusion to proceed at …read more
Source:: Zerohedge.com
(Visited 8 times, 1 visits today)