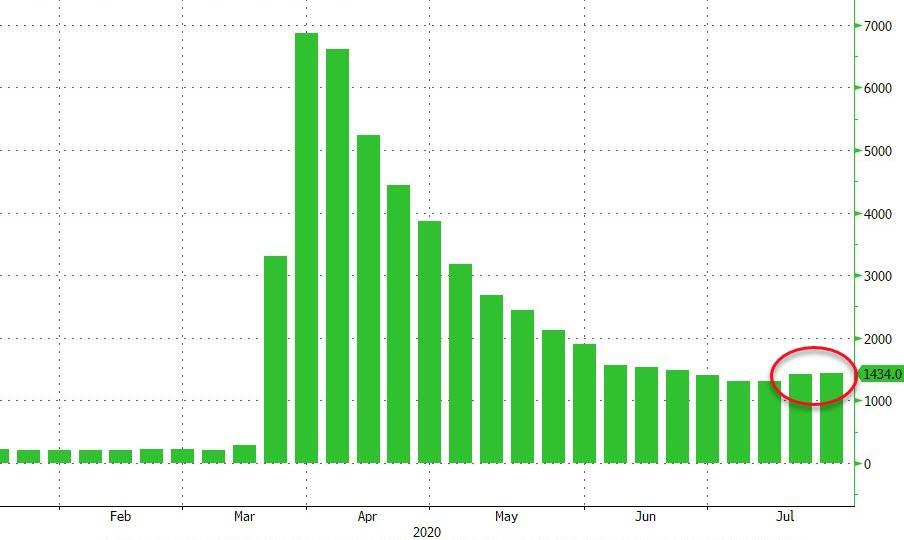 Continuing Jobless Claims Spike As Almost 50% Of Lost Jobs "May Be Gone Permanently"
Tyler Durden
Thu, 07/30/2020 – 08:33
Initial Jobless Claims was above a million last week for the nineteenth straight week, and rose for the second week in a row…
But, Continuing Jobless Claims greatly disappointed, rising for the first time in 8 weeks from 16.15mm to 17.02mm…
A total of 54.13 million Americans have now applied for jobless benefits for the first time since the pandemic lockdowns began (thats over 330 layoffs for every COVID death in America), and massively more than the 22.1 million during the great financial crisis.
However, as Michael Snyder details below, under the surface of these numbers, things are far from rosy looking forward.
When millions of Americans were losing their jobs at the beginning of this pandemic, we were told not to worry because the lockdowns were just temporary and virtually all of those workers would be going back to their old jobs once the lockdowns ended. Well, now we are finding out that was not even close to true. Over the last 18 weeks, more than 52 million Americans have filed new claims for unemployment benefits, and a very large percentage of them are dealing with a permanent job loss. In fact, one brand new survey discovered that 47 percent of all unemployed workers now believe that their "job loss is likely to be permanent". The following comes from a USA Today article entitled "Almost half of all jobs lost during pandemic may be gone permanently"…
In April, 78% of those in households experiencing job loss felt that that situation would be temporarily. But now, 47% think that job loss is likely to be permanent, according to The Associated Press-NORC Center for Public Affairs Research.
What that number tells us is that we are facing the worst employment crisis since the Great Depression of the 1930s.
All of those permanently unemployed workers are eventually going to need new jobs, but meanwhile the U.S. economy as a whole is in a free fall that is absolutely stunning. On Thursday, we are scheduled to get the GDP number for the second quarter, and everyone is expecting that it will be really bad…
Data due …read more
Source:: Zerohedge.com
(Visited 3 times, 1 visits today)