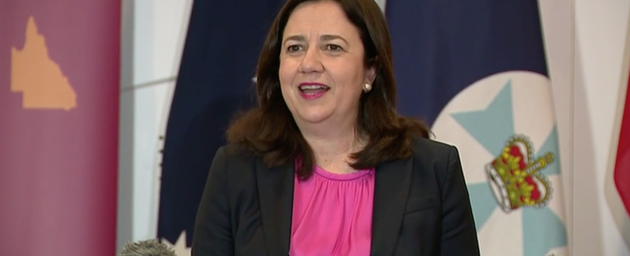 Queensland will open its borders to all states except Victoria on July 10, Premier Annastacia Palaszczuk confirmed on Tuesday.
Other states and territories will be able to travel into Queensland after filling out a border pass declaring they haven't been to Victoria for the past two weeks.
"If you falsify a document, you will face strict penalties and fines up to $4,000," Palaszczuk told reporters before warning she would cancel the border reopening to states and territories that experience future COVID-19 community transmission outbreaks similar to Victoria.
From this Friday July 3 at 12pm, people who have been in Victoria and need to travel to Queensland, including Queensland residents, must self-isolate in a hotel for 14 days at their own expense.
"We just can't risk removing border restrictions for people coming from areas of Victoria right now," Palaszczuk added.
"We want to help Victoria out. We've sent our Deputy Chief Health Officer down to Victoria, Dr Young will also mention to you that we are prepared to give even more support to Victoria."
Related…
'Not An Ethnic Community Thing': It's Unfair To Blame Us For Victoria COVID-19 Spike, Migrants Say
MasterChef Judge Jock Calls Out Racism Towards Melissa Leong
What's So Hard About Developing A COVID-19 Vaccine? We Asked A Scientist
The premier went on to urge Queenslanders to stay in their home state this school holidays.
"Please do not go to Victoria." she said. "Stay in Queensland."
South Australia on Tuesday cancelled its scheduled reopening to some parts of the nation, citing a spike in coronavirus infections in neighbouring Victoria.
South Australia had said it would remove restrictions on interstate arrivals on July 20 as part of a broader …read more
Source:: The Huffington Post – Australia
(Visited 2 times, 1 visits today)