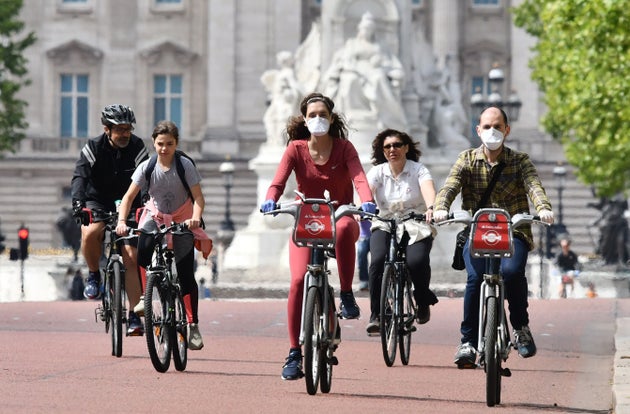 Get the latest on coronavirus. Sign up to the Daily Brief for news, explainers, how-tos, opinion and more.
The UK's CO2 emissions fell to their lowest level in almost a century during lockdown, scientists have revealed.
As the nation ground to a halt in late March so did 31% of our total emissions, with transport – notably cars and planes – brought to a near-standstill. The UK had not seen such a low rate of emissions for almost a hundred years, in the mid-1920s.
Research, carried out as coronavirus outbreaks took hold around the world, found that on April 7, the level of emissions had fallen by 17% globally – the lowest the world had seen since 2006.
During peak confinement in individual countries daily CO2 emissions fell by 26% on average. The UK's average fell even further than this number due to an overrepresentation in surface transportation – mostly made up of private cars and other road vehicles – a huge proportion of which was taken off the road as businesses shut up shop on March 23.
The study's lead author, Corinne Le Quéré, professor of climate change science at the University of East Anglia, explained: "A lot of emissions in the UK come from surface transport – around 30% on average of the country's total emissions. It makes up a bigger contribution to total emissions than the average worldwide.
"It was also the sector that was most affected by lockdown as a result of people being forced to stay at home and, in particular, not able to drive to work.
"The UK also reached full lockdown, whereas lots of the countries we studied did not, so that made a difference in terms of its average."
In order to estimate daily global CO2 emissions – which are usually measured months or years after the fact – researchers had to take a radically different approach.
The peer-reviewed paper, published in the scientific journal Nature Climate Change, examined six sectors which usually contribute to climate change; electricity and heat, the largest factor; industry; surface transport; homes; public buildings and commerce; and aviation.
Usage during lockdown was calculated using a variety of methods from different countries, with changes in the residential sector, for example, inferred from UK smart meter data.
In order to meet the ambitions of the 2015 Paris Agreement the Intergovernmental Panel on Climate Change (IPCC) said, of …read more
Source:: The Huffington Post – UK Tec
(Visited 1 times, 1 visits today)