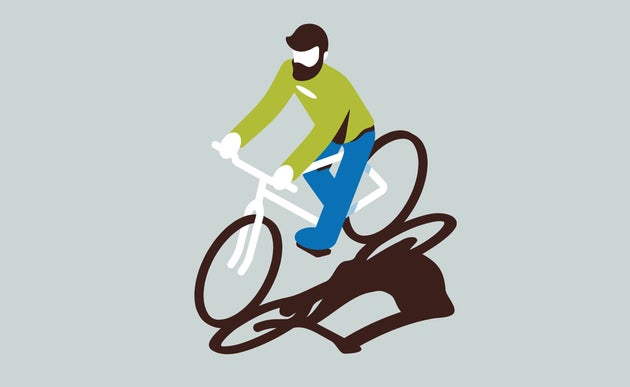 We're here to guide you through the coronavirus lockdown.
'Cycling Has Saved My Life' How Riding On Two Wheels Helps Improve Mental Health
1. Find the best bike for you
Cycling doesn't have to be expensive, so don't fork out loads if you're a newbie. If you live in a city, look up bike sharing schemes to begin with – such as Santander Bikes, Lime, Jump, Freebike, Beryl – to check cycling is for you. Just make sure you take anti-bacterial wipes to give the handlebars a clean.
If you're committed to buying your own bike, start conversations with friends who cycle, or look online to see what might suit you. Got three minutes to spare? Watch this YouTube video from the Cycling Experts on the different styles of bike for different purposes.
Hybrid bikes – those with characteristics from road bikes, touring bikes and mountain bikes – are good all-around cycles for commuting, recommends Bike Radar. They're not the lightest or most comfortable bikes for long distances, though.
"Most modern hybrids are usually built around 700c wheels… the tyres are often wider than a road bike's – but usually not as wide as a mountain bike – allowing you to traverse rough roads and gravel paths with ease," they say.
Related…
I Was Terrified Of Getting A Road Bike, But I Haven't Looked Back
If you live in a particularly hilly area, an e-bike might be a good option, giving you a boost and ensuring you don't arrive at work looking like a sweaty mess. Folding bikes could be a good choice for those who have to balance public transport with two-wheel travel. It's worth steering clear of Dutch-style bikes, though. While aesthetically pleasing, they aren't the best for a daily commute – they're heavy so you'll find it slow-going.
If you …read more
Source:: The Huffington Post – UK Tec
(Visited 2 times, 1 visits today)