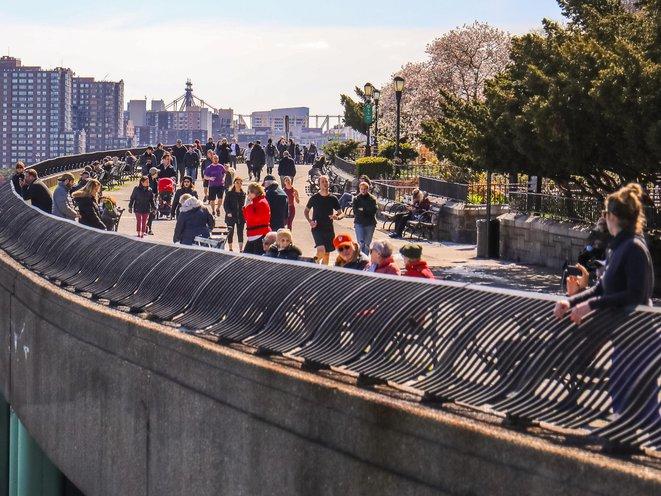 At US Epicenter: NY Parks Bustle, Subway Packed, Social Distancing Defied & Flaunted
New York's explosion of confirmed coronavirus case numbers over the past several days — with the state's total at 37,258 cases, with 5,327 currently hospitalized, and 1,290 patients in the ICU — 20,011 among these in New York City alone, is downright scary.
This makes the below scenes of 'brave' New Yorkers still willing to go about their daily lives oblivious to the 'apocalyptic' surge in hospitalizations from the virus all around them in what's clearly become the nation's epicenter all the more stunning and arguably reckless.
Despite #coronavirus restrictions, NYC subway cars are still PACKED. This video, taken YESTERDAY, shows passengers in an overcrowded train with little evidence of social distancing https://t.co/7ZtPXNuiTS pic.twitter.com/ME5tSPIvWu
— ABC7 Eyewitness News (@ABC7) March 25, 2020
Case in point: the New York subway has proudly never completely shut down in the over century of its existence, though it's this week reduced service as rising numbers of MTA employees catch Covid-19, but maybe it's time for drastic action given the above scene.
Some took to social media to argue that trains are getting packed because the MTA doesn't have enough personnel to run more, also as the newly announced 25% reduction in service goes into effect, creating a more dangerous situation.
D train this morning. Even more crowded. pic.twitter.com/XkFs9Ov0F1
— socially distant vaper (@victor_mifsud) March 25, 2020
Despite Gov. Andrew Cuomo's issuing a 'stay at home' order for New Yorkers, which further mandates any businesses not deemed "essential" keep their employees at home, there are plenty this week willing and ready to defy those orders.
People have to go to jobs still operating under the 'essential' exemption, yet by all appearances there's still been examples of of deniers and disbelievers gathering around the city, determined to carry on with daily routines.
Hordes of locals apparently took the 'stay at home' mandate as an opportunity to soak up the sun at public parks and to catch up on team sports, while often ignoring the 6-feet distance advisory.
New York City is now the center of the worst COVID-19 outbreak in the United States, but @Gothamist reports that it hasn't stopped people from crowding city parks, even right outside the mayor's home.
Source:: Zerohedge.com
(Visited 1 times, 1 visits today)