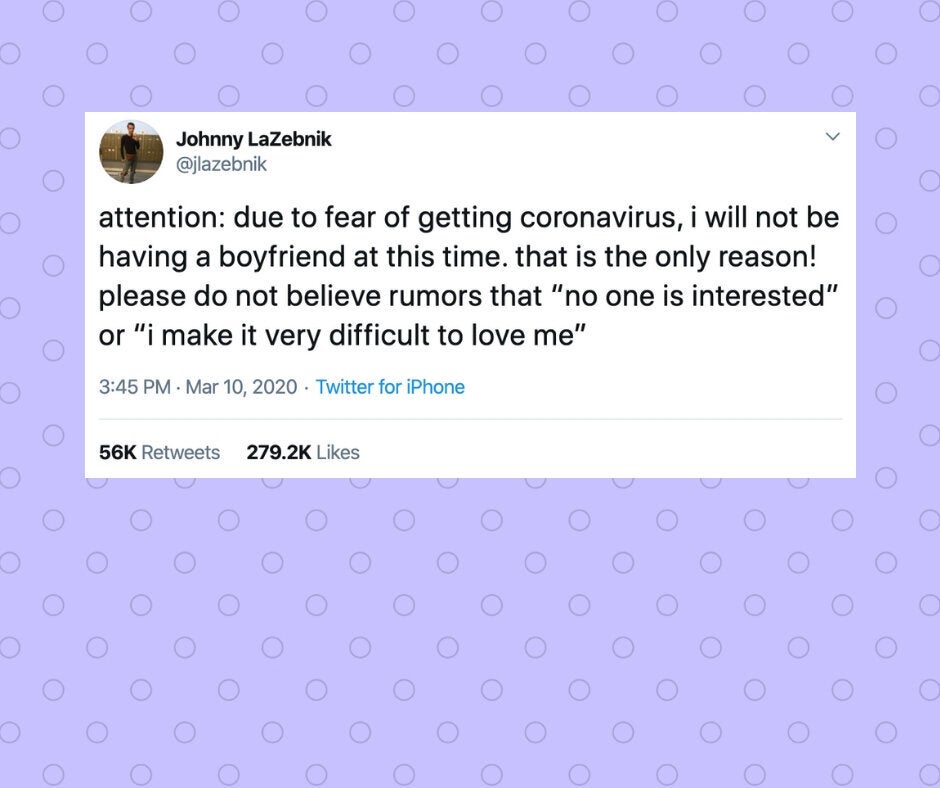 Life is different in the midst of the coronavirus pandemic. It's affected the way we work, socialise, travel, eat — and how we love, too.
Covid-19, the disease caused by the virus, is no laughing matter, but a strong dose of humour is part of what we need to get us through a time like this.
Whether you're single, dating, married or on the brink of divorce, we've rounded up 24 tweets to give you a good laugh.
"Sorry I'm practicing social distancing" is about to be the most popular break up text of 2020
— Ali Kolbert (@AliKolbert) March 12, 20201.
on pace to be the first covid-19 related divorce
— not approachable (@MommaUnfiltered) March 14, 20202.
Pro-tip for couples suddenly working from home together: Get yourselves an imaginary coworker to blame things on. In our apartment, Cheryl keeps leaving her dirty water cups all over the place and we really don't know what to do about her.
— Molly Tolsky (@mollytolsky) March 16, 20203.
New relationships: Netflix and Chill.
Marriage and a few kids deep relationships: Netflix and sleep.
Corona virus quarantine relationships:
Netflix and eat an entire 3 months of rations in an evening.
— Ben Bruce (@benjaminbruce) March 18, 20204.
"We're not gonna survive this."
—Me and my boyfriend, not about #coronavirus but about working from home together.
— EJ Samson (@ejsamson) March 13, 20205.
"I have two-ply."
– my new dating profile
— Just Bill (@WilliamAder) March 14, 20206.
attention: due to fear of getting coronavirus, i will not be having a boyfriend at this time. that is the only reason! please do not believe rumors that "no one is interested" or "i make it very difficult to love me"
— Johnny LaZebnik (@jlazebnik) March 10, 20207.
Does My Husband Still Like Me? A Coronavirus Memoir
— Megan Gailey (@megangailey) March 15, 20208.
You guys, my husband just made me a gin and tonic at 10:46 pm on a SUNDAY and said, "Happy Quarantine!"
I am entirely too old to have a pandemic baby.
— Lady Lawya (@Parkerlawyer) March 16, 20209.
[returns from long business trip]
*gives wife an awkward fist bump*
— Chad Read (@squirrel74wkgn) March 14, 202010.
Source:: The Huffington Post – UK Tec
(Visited 1 times, 1 visits today)