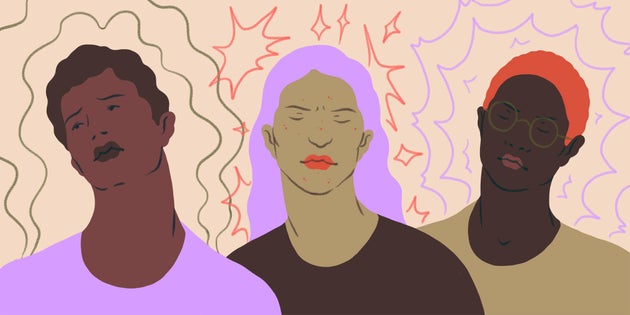 This story is from HuffPost in the US – and part of Pain in America, a nine-part series looking at some of the underlying causes of the opioid addiction crisis and how we treat pain.
Chronic pain comes in all different shapes and sizes — it burns, it aches, it stabs and throbs. Some people's pain is linked back to muscle and joint injuries, whereas others' pain is caused from conditions like endometriosis, cysts, nerve damage and inflammation.
And even though chronic pain — or the type of pain that lingers for months or years on end — affects about , there's a historic underinvestment in pain research, which means medical experts know very little about the mechanisms behind pain.
Diagnostic criteria has often been based on pain in a specific body part. "The thought is that if you have pain in your knee, there must be some sort of active disease process going on in the knee," Veasley said.
But research has since shown that chronic pain is actually linked to irregular pain pathways all around the central nervous system (so while one might feel pain in their knee, that may not be where the pain is actually coming from). As a result, diagnosing pain is a wild game — and many conditions go either undiagnosed or misdiagnosed.
Take Jaime, a 28-year-old marketing manager in Philadelphia who experienced aches in her arm after getting ankle surgery in 2018. She was diagnosed with golfer's elbow and put on a physical therapy plan. She was given a cortisone shot, ultrasound therapy, massages and acupuncture. Her arm pain didn't improve and her doctors said there was nothing else they could do.
One year later, Jaime's physical therapist suspected the pain wasn't coming from her arm, but her neck. An X-Ray and MRI revealed three herniated discs in her neck causing damage along the nerves running through her arm.
"This entire journey has been incredibly frustrating," said Jamie, who wished to withhold her last name to talk freely about her medical issues. "Ultimately, each step in figuring out what was wrong with me led me to where I am now, with a correct diagnosis, finally."
You often don't look "sick."
When it comes to getting help, the stigma associated with chronic pain holds many people back, explained Deena Kuruvilla, a Yale Medicine neurologist who treats headache and facial pain.
"Many patients may not be coming …read more
Source:: The Huffington Post – UK Tec
(Visited 1 times, 1 visits today)