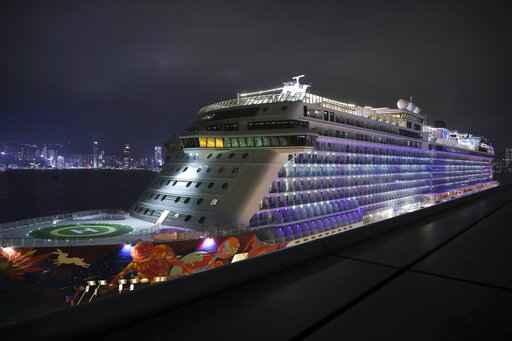 Royal Caribbean Cancels 18 Cruises As Thousands Remain Trapped Aboard 'Diamond Princess'
Cruise ship operators across the world, especially in Asia, are experiencing a crisis with few precedents.
The Covid-19 outbreak that started in China has spread across the region, and around the world – it's currently confirmed to be present in nearly 30 countries and territories.
For cruise lines, the outbreak has been one public relations disaster after another, with passengers quarantined on ships such as the World Dream in Hong Kong and Carnival Corp.'s Diamond Princess in Japan.
Another incident involving a cruise ship with possibly infected passengers unfolded on Thursday, this time in Sydney. What would be the fifth cruise ship to face some level of quarantine (or some other form of trouble) since the outbreak went global last month is currently being held under a quarantine order in Sydney Harbor.
The leading cruise ship operator in Asia, Carnival Corporation & plc, published a press release on Wednesday detailing that if it suspended all operations across Asia until the end of April due to the virus outbreak, then it would realize a severe financial impact.
"…if the company had to suspend all of its operations in Asia through the end of April, this would impact its fiscal 2020 financial performance by $0.55 to $0.65 per share, which includes guest compensation."
With the virus outbreak worsening, and China shockingly reporting a massive jump in new infections on Wednesday-Thursday due to a "change in the definition" of how it counted confirmed cases, resulting in a surge of nearly 20,000 cases over the two days, the outlook for cruise operators is only getting worse.
This leaves the big cruise ship operators facing a serious dilemma:
#nCoV2019 The dilemma#PoliticalDecisions#MyOpinion
Option 1) contain virus, preserve life & Cause serious Sharp Economic Slowdown
Option 2) Let virus spread & globally 50 – 100 Million could die, With Long, Slow, milder Economic impact
(If CFR, currently unknown, is ~1%)
— 0range Crush (@0rangeCru5h) February 12, 2020
However, Royal Caribbean Cruises Ltd. appears to have finally made the right call on Thursday evening after it announced it would suspend 18 lines. The short-term impact is a 65-cent-per-share hit on earnings for the year, but at least it would prevent further spreading of the virus and limit PR disasters such as what's happening on …read more
Source:: Zerohedge.com
(Visited 1 times, 1 visits today)