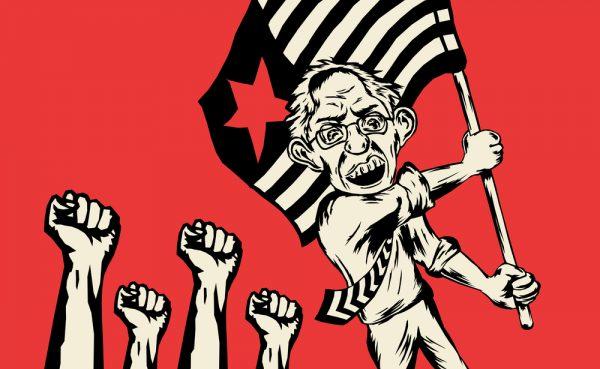 Iowaaaaahhh & Bernie Sanders' Commie Kill Swarm
Authored (satirically) by CJ Hopkins via The Unz Review,
America just can't catch a break.
After three long years of brutal oppression under Donald Trump's Russia-backed Nazi Reich, it turns out the only Democratic candidate with a chance of unseating him in November and rescuing the world from the Putin-Nazis is a 78-year-old bloodthirsty Commie with a Khmer Rouge-like army of kill-crazy followers.
Yes, I'm afraid the rumors are true. Apparently, elements of Jeremy Corbyn's recently-disbanded Nazi Death Cult have regrouped in the United States, formed an alliance with Bernie Sanders fanatics, and together this Mega-Commie Kill Swarm is roaming the Internet with complete impunity, sadistically mass-murdering Sanders critics and defenseless differently-abled persons with vulgar language and vicious poo-memes.
The corporate media are doing their best to alert Americans to the imminent threat. CNN broadcast a special report explaining how Sanders' "army of supporters" are "bullying" and "frightening" his critics into silence. An "outspoken Elizabeth Warren supporter whose daughter with Downs syndrome is recovering from cancer" was verbally-abused to within an inch of her life. An "activist dying of ALS" was instructed to go "f___" himself. The Working Families Party was subjected to a series of inappropriate adjectives. The Party's leader, an African American and a personal friend of Bernie Sanders, was taunted with a racist Tweet, which Sanders took to Twitter and condemned, but by that time it was much too late. His Commie Kill Swarm was beyond his control; they started tweeting memes comparing Elizabeth Warren to a snake and Pete Buttigieg to a rat, and otherwise terrorizing the American public.
Senior Investigative Correspondent Drew Griffin spoke to several other "victims" of Sanders' Commie Kill Swarm's tweets who are recovering from their Internet traumas in undisclosed secure locations and so insisted on remaining anonymous. According to Griffin, these emotionally-traumatized victims are so emotionally traumatized by what they experienced on the Internet that they wouldn't even let him describe the traumatic "circumstances" surrounding their "attacks."
And the proof of Sanders' Commie Kill Swarm's atrocities isn't just anecdotal. No, Griffin also spoke to Ben Decker, "CEO" of something called "Memetica" (which appears to be Ben's Twitter account), whose "Facebook analysis" conclusively proves that Sanders has a lot of online supporters, more than all the other candidates, which creates "the potential for greater harm." …read more
Source:: Zerohedge.com
(Visited 2 times, 1 visits today)