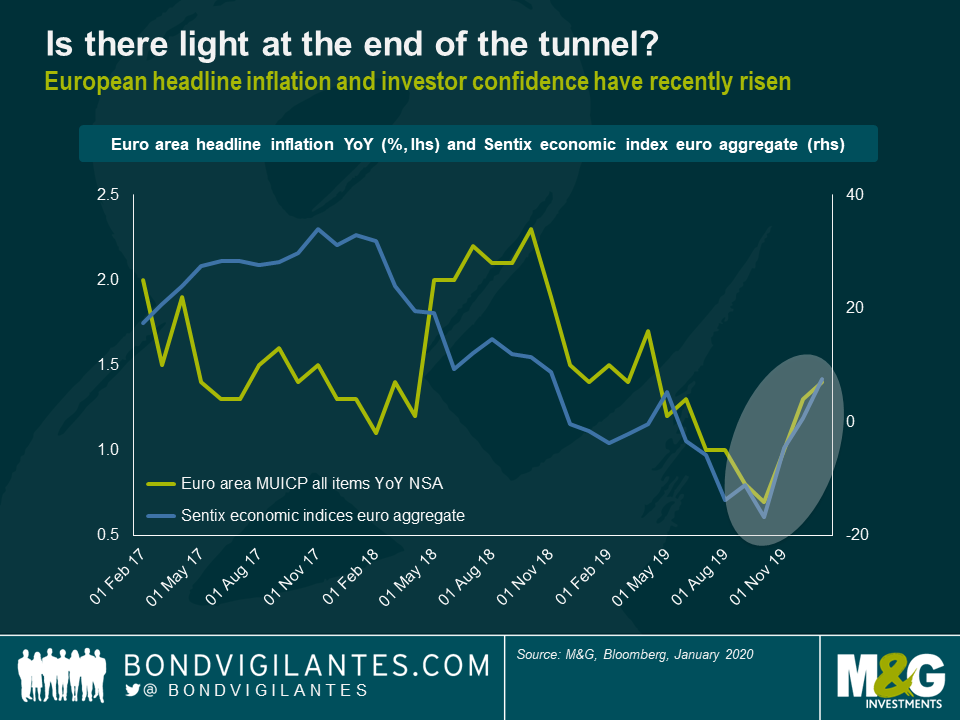 Has Europe Really Turned The Corner?
Authored by Wolfgang Bauer via BondVigilantes.com,
Lately a growing number of indicators have suggested that the European economy might be out of the woods, heading towards a more robust recovery. For instance, while European inflation remains significantly below the ECB's inflation target of close to but below 2%, it is worth highlighting that the year-on-year headline rate has in fact doubled from 0.7% in October 2019 to 1.4% in January 2020. Even the manufacturing PMI for the euro area, one of the biggest causes of worry to European investors throughout 2018, seems to have bottomed out in September 2019 and is now back on a mild upward trajectory. Sentiment amongst European investors has also improved considerably. Take, for example, the Sentix economic index for the euro area—a gauge for investor confidence—which has sharply rebounded from its October 2019 low-point, climbing in January 2020 to its highest level since November 2018.
The key question is, of course, whether Europe has genuinely turned the corner or not. I'd argue that it is way too early to give the all-clear signal. First of all, despite the recent green shoots, economic growth in Europe remains anaemic and fragile. In fact, Q4 2019 marks with only 0.1% real GDP growth the weakest quarter in the euro area since Q1 2013. The economies of France (-0.1%) and Italy (-0.3%) outright contracted. In addition, recession risks around Germany have resurfaced with a vengeance. On a year-on-year basis, German industrial production dropped by 6.8% in December 2019, the strongest decline since the global financial crisis. So, things may well get worse before they get better in Europe.
Furthermore, there are several material tail risks lingering in the background that could further darken the outlook for the euro area.
Coronavirus: It is of course too early predict the full magnitude of the economic impact of the coronavirus outbreak on China—and, by extension, on global growth dynamics—with any reasonable degree of confidence. If however the situation does take a turn for the worse, European GDP growth would most certainly take a hit. Chinese demand for European product may falter and global supply chains could get disrupted. Apart from the economic drag, any further escalation of the coronavirus situation could also trigger distress in global markets through a retrenchment of risk appetite, as …read more
Source:: Zerohedge.com
(Visited 2 times, 1 visits today)