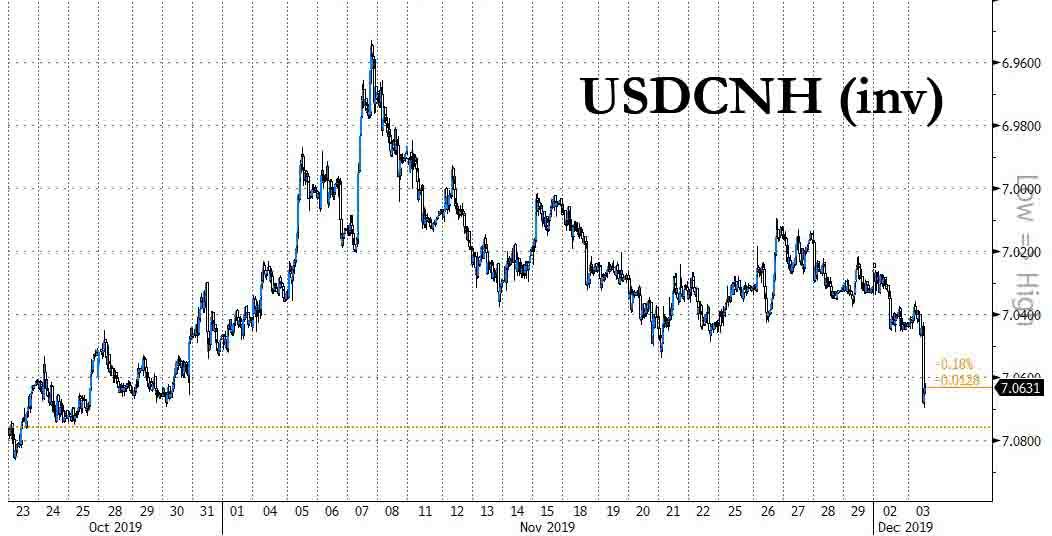 Trump Torpedoes Global Markets As Trade War Returns
Last week, when Trump signed the Hong Kong bill, we asked if Trump was willing to reignite the trade war now that the S&P hit an all time high of 3,150.
That question was especially apt this morning, when European shares slumped back into the red on Tuesday, reversing an earlier attempt to claw their way back from three days of falls, US equity futures tumbled for the second day in a row and the Chinese yuan sank on renewed trade tensions after President Trump said at the start of his British NATO summit visit that a that a trade deal with China might be delayed until after November 2020 elections, denting hopes of a quick resolution to a dispute that has weighed on the world economy.
"I have no deadline, no. In some ways, I think I think it's better to wait until after the election with China," Trump told reporters in London, where he was due to attend a meeting of NATO leaders. "In some ways, I like the idea of waiting until after the election for the China deal. But they want to make a deal now, and we'll see whether or not the deal's going to be right; it's got to be right."
Those comments, made as Trump landed in Britain for a NATO summit, also sent the offshore-traded Chinese yuan to near five-week lows.
France, the latest U.S. trade war target, saw shares tumble more than 0.6% to a one-month low, and dragged Europe's Stoxx 600 index down 0.2%, giving up earlier modest gains and extending Monday's 1.6% tumble which was its biggest one-day loss in two months.
U.S. stock futures also turned negative, with S&P 500 futures down 0.4%.
"The markets were spooked because they didn't expect Trump to be that severe on China," said WisdomTree researcher Aneeka Gupta. "It's worrying for Europe too, because it was waiting for a decision on the auto tariffs from the U.S. Investors weren't expecting Trump to be launching trade wars on all fronts."
Trump's willingness to open new fronts in the trade war – with Argentina, Brazil and France – despite signs of economic damage and less than two weeks away from the China tariff deadline, spooked markets. Indeed, his latest comments dashed hopes that an agreement …read more
Source:: Zerohedge.com
(Visited 1 times, 1 visits today)