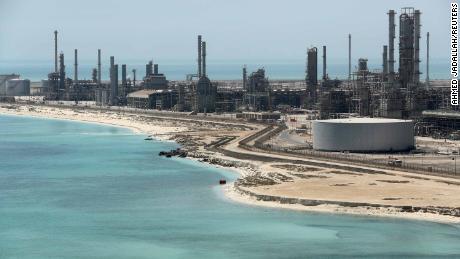 Saudi's Aramco IPO Is Mission Impossible
Once again reports are out that Saudi Aramco is said to be pushing its mammoth IPO top completed by the end of this year (reportedly relying more on Saudi and MidEast regional investors).
The kickoff, originally scheduled for Oct. 20, was delayed after Aramco got mixed feedback from international investors. Bloomberg reports that Aramco now plans to press on with the listing plans by relying more on investors from Saudi Arabia and other parts of the Middle East to buy its shares, the people said, asking not to be identified because the information is private.
But, as S&P Global Platts Insight blog notes, Saudi Aramco's IPO looks doomed to failure as it targets a $2 trillion flotation. Tepid oil prices, the fraught politics of the Middle East and the demonization of fossil fuel producers in response to climate change fears have all made the initial public offering (IPO) a mission impossible.
The kingdom had looked poised to list up to 2% of its shares on its domestic market within weeks. But the long-delayed partial privatization of the world's largest state-owned oil company now faces another indefinite postponement after the devastating attacks last month on some of its most important facilities at Abqaiq and Khurais in the Eastern Province of Saudi Arabia.
Overnight, the attacks shut down 5.7 million barrels per day of Saudi Arabia's oil production, roughly equivalent to 6% of global supply. A catastrophic spike in oil prices was only narrowly avoided because of the kingdom's own emergency stockpiles, and its swift response in patching up the damage and restoring output in record time. But this has come at a high price to Aramco, which potential investors will want to see accounted for before paying any kind of premium for its shares in an IPO.
It is a level of detail which the normally secretive Aramco is probably uncomfortable to reveal. In August, Aramco for the first time gave potential investors a glimpse of its first-half earnings. Net income of almost $50 billion made it comfortably the world's most profitable company. However, the cost of repairs at Abqaiq and the inconvenience caused by the attacks will be an ugly blemish on its otherwise pristine balance sheet.
Despite US President Donald Trump's decision to beef up the American military presence in Saudi Arabia …read more
Source:: Zerohedge.com