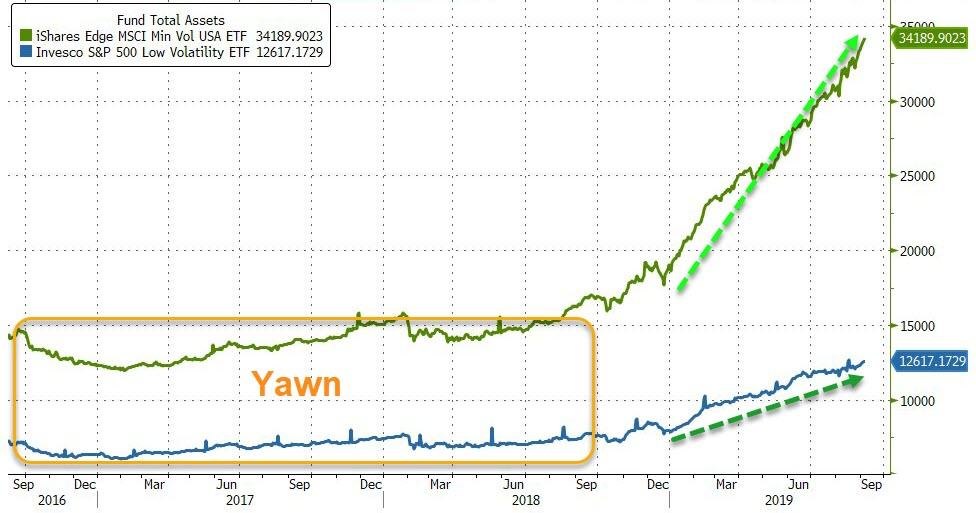 "Biggest Quant Quake" Since Tech Blowup Era Sparks Fears Over Low/Min Vol Funds
Today's carnage in the quant space – among the largest in history (and as big as the tech blowup era)…
Final quant quake post-mortem: Days bigger than this for momentum & value below. Momentum: financial crisis recovery days, then #dotcomcrash era. Value: Today's moves take us back to the tech blowup era. Is this an inflection point, or just an interest rate proxy trade … ? pic.twitter.com/4wb7F20ZGO
— Michael Krause (@michaelbkrause) September 9, 2019
Reminded us of warnings that Academy Securities' Peter Tchir recently sent about the potential for trouble ahead from the flood into low/min vol funds over the last year.
I am increasingly concerned about the amount of money flowing into low volatility funds or minimum volatility funds. I believe that these flows represent 'weak' hands, clinging to the market and are highly susceptible to selling pressure on any surprise.
Low volatility funds, like the $13 billion SPLV, invest in stocks that exhibit low volatility.
Minimum volatility funds, like the $34 billion USMV, attempt to create a portfolio that is less volatile than the market as a whole. For example, the largest holding in USMV is Newmont Goldcorp Corporation (NEM). The 50-day historical volatility for NEM is 26 compared to 17 for the S&P 500. It is included, because on a portfolio level, it tends to reduce risk. It tends to zig when other stocks zag, making this relatively volatile stock an ideal pick for a minimized volatility strategy – at least when looking at past data. These strategies are clearly appealing to investors as the fund flows have been staggering.
USMV and SPLV Assets Under Management Increasing Rapidly Since September 2018
Source: Bloomberg
These two products have taken in over $23 billion since September of last year.
As flows have exited the broader market ETFs.
Source: Bloomberg
I assume, as I always do, that the ETF flows are merely the tip of the iceberg. I am not opposed to these strategies as a whole, but like everything else, they have their time and place and I'm starting to get concerned that these funds will be a weak part of the market for several reasons (they might be a really interesting hedge opportunity, especially as options are cheaper on these funds than the …read more
Source:: Zerohedge.com
(Visited 3 times, 1 visits today)