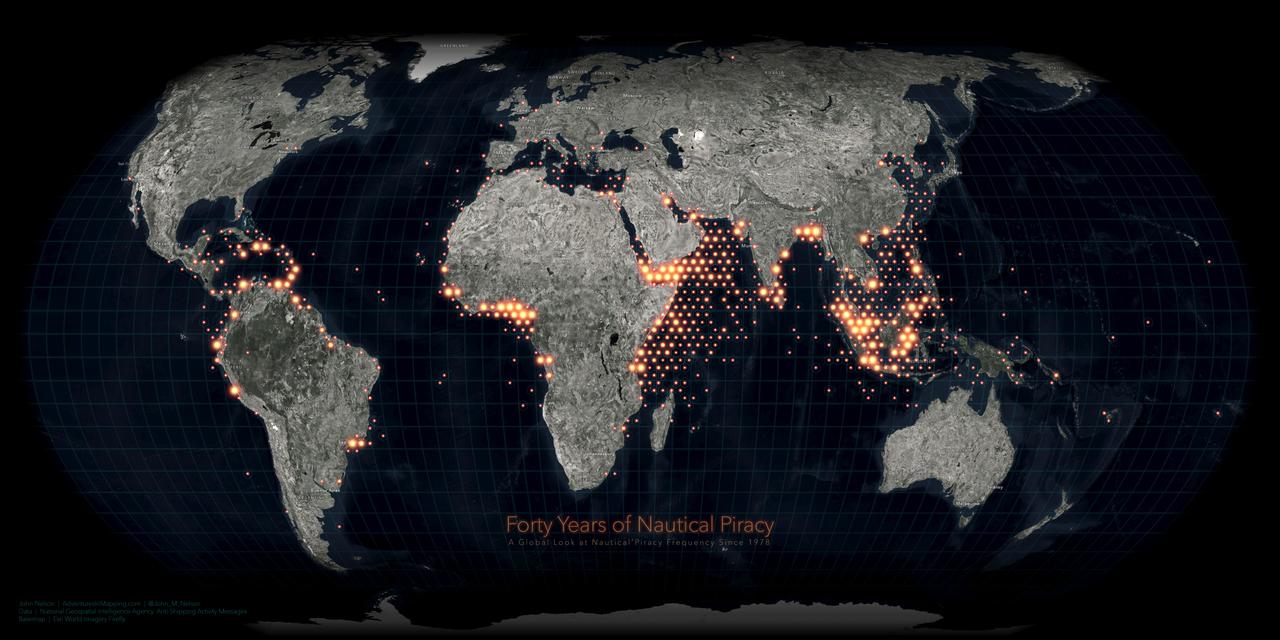 For millennia, voyaging on the open seas has been a dangerous and risky endeavor.
Between the powerful forces of Mother Nature and self-made obstacles stemming from human error, there is no shortage of possible calamities for even the bravest of sailors.
But, as Visual Capitalist's Jeff Desjardins notes, for most of human history, perhaps the biggest fear that sailors grappled with was that of piracy. A run in with such marauders could lead to the theft of valuable cargo or even possible death, and it's a threat that carries on even through modern times.
Hotbeds of Modern Piracy
Today's map comes from Adventures in Mapping and it aggregates instances of piracy over the last 40 years based on the database from the National Geospatial-Intelligence Agency.
View the full-size version of the infographic by clicking here
It should be noted that all individual events can be seen on this interactive map, which is what we will use to look at current hotbeds of piracy in more depth below.
1. The Strait of Malacca
The Strait of Malacca is one of the world's most important shipping lanes, and also one of the most notorious.
A key chokepoint that sits between Malaysia and Indonesia, the Strait of Malacca is as narrow as 25 miles wide while also seeing a quarter of the world's traded goods shipped through it every year. As a result, the strait and surrounding area are a frequent target for modern piracy.
Example account: (September 2002)
"The 1,699-ton Malaysian-flag tanker (NAUTICA KLUANG) was hijacked 28 Sep at 0300 local time while underway off Indonesia in the vicinity of Pulau Iyu Kecil at the southern tip of the Strait of Malacca. The pirates, armed with guns and machetes, tied up the crew and locked them in cabins. When the crew freed themselves at 0900, 29 Sep, the thieves had transferred the ship's cargo of 3,000 tons of diesel oil, damaged communications equipment, and renamed it (CAKLU). "
2. The Horn of Africa
When many people think of modern piracy, they think of the coast of Somalia. While those waters are often avoided, the nearby areas can be just as problematic.
In particular, the Bab el Mandeb strait, which connects the Red Sea to the Indian Ocean, is a target for modern piracy. Similarly, the waters just off of Yemen are quite treacherous as well.
Example account: (January 1991)
"Somali pirates attached MV Naviluck off …read more
Source:: Zerohedge.com
(Visited 2 times, 1 visits today)