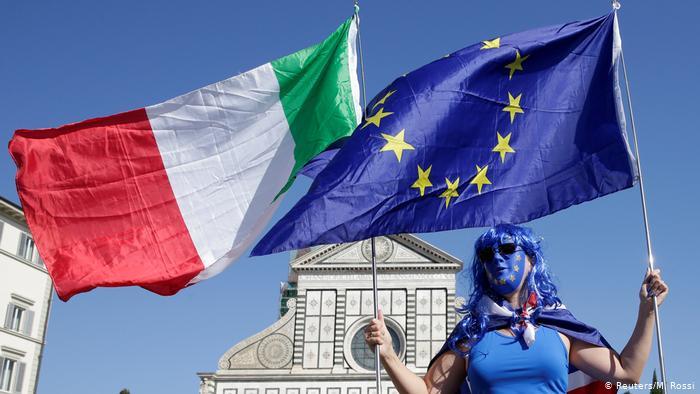 Authored by Don Quijones via WolfStreet.com,
Italy's fiscal health is once again in serious decline…
Last week, Italy's coalition government slashed its growth forecast for the Italian economy in 2019 to 0.2% – the weakest forecast in the Eurozone – from a previous forecast of 1%. Italy is already in a technical recession after chalking up two straight quarters of negative GDP growth in the second half of 2018.
The government's budget for this year was based on the assumption that the economy would expand by 1% this year. Now, it seems the economy may not grow at all; it could even shrink.
One direct result of this is that Italy's current account deficit for 2019 will be substantially higher than the 2.04% of GDP Italy's government pledged to stick to late last year. And that can mean only thing: another standoff between Rome and Brussels over the direction of fiscal policy is in the offing.
Italy already boasts the largest public debt pile in Europe in nominal terms, clocking in at €2.14 trillion, as well as the second largest in relative terms after Greece's twice bailed out economy. Rome just forecast that public debt would hit a new record high of 132.6% of GDP this year. That record is unlikely to last very long given Italy's stagnating economy and the government's determination to cut taxes, reduce the retirement age and introduce a citizens' basic income.
The biggest problem with Italy's economy is that many of its problems are chronic and deep seated. Many of them date back to the adoption of the euro, in 2000, or in the case of Rome's massive addiction to public debt, to the 1980s. As the OECD points out, real GDP in Italy is still well below its pre-crisis peak. Italy is also the only OECD country where incomes (as measured by GDP per capita) are no higher than in 2000. By contrast, in France, Spain, the UK and Germany they have risen during the same period by 13%, 17%, 21% and 23 respectively.
The IMF now envisages Italy's public debt ratio ratcheting up to 134.4% of GDP in 2020 to 138.5% in 2024. As the debt increases, so too will the interest payments on the debt. That is unsustainable, especially with much of that debt scheduled to fall due in the next few years. In 2019 alone, Italy has an eye-watering €250 billion of bond redemptions …read more
Source:: Zerohedge.com
(Visited 1 times, 1 visits today)