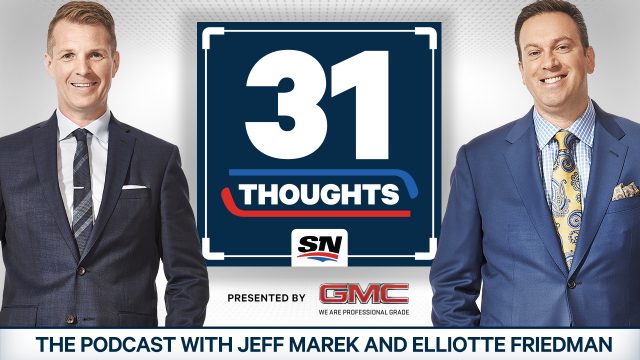 WINNIPEG — When the Sedins retired, they wondered in Vancouver how it would affect the Canucks culture. In Boston there is no wondering: Patrice Bergeron and Zdeno Chara pass it down to players like David Krejci and David Pastrnak, who in turn indoctrinate young guys like Jake DeBrusk and Charlie MacAvoy on how things are supposed to work inside a perennially competitive NHL franchise.
Hockey culture.
To hockey analytics it is a unicorn. The thing you never see that can not be quantified. But all the best teams have it, and the worst ones are actively in search.
Well, meet the San Jose Sharks: A.K.A. "Boston West."
They may not have the best team every year, but do the Sharks ever have to rebuild? Do they miss the playoffs? (Hint: just once in the last 15 seasons, including this one.)
On Tuesday night in Winnipeg, just 24 hours after San Jose had rolled through Minnesota in a 3-0 road win, the Sharks outlasted a rested Jets club in a battle of Western titans.
Joe Pavelski, who epitomizes everything a leader should be, buried a two-on-one pass from Timo Meier with less than five seconds left in regulation to complete the 5-4 victory. It was two points earned on the second of a back-to-back, on the road against an excellent Jets club, and with five defencemen — Radim Simek having left with a leg injury early in the game.
/*
if ( "1" == true && 'undefined' !== typeof window.getIndexAds ) {
var so = {preroll:{1:{1:{siteID:191888},2:{siteID:191889}}}};
adServerUrl = window.getIndexAds( 'http://pubads.g.doubleclick.net/gampad/ads?sz=640×360&cust_params=domain%3Dsportsnet.ca&iu=%2F7326%2Fen.sportsnet.web%2FVideo&ciu_szs=300×250&impl=s&gdfp_req=1&env=vp&output=vast&unviewed_position_start=1&ad_rule=1&vid=6013245479001&cmsid=384', so, permalink);
} else {
adServerUrl = "http://pubads.g.doubleclick.net/gampad/ads?sz=640×360&cust_params=domain%3Dsportsnet.ca&iu=%2F7326%2Fen.sportsnet.web%2FVideo&ciu_szs=300×250&impl=s&gdfp_req=1&env=vp&output=vast&unviewed_position_start=1&ad_rule=1&vid=6013245479001&cmsid=384";
}
*/
adServerUrl = "http://pubads.g.doubleclick.net/gampad/ads?sz=640×360&cust_params=domain%3Dsportsnet.ca&iu=%2F7326%2Fen.sportsnet.web%2FVideo&ciu_szs=300×250&impl=s&gdfp_req=1&env=vp&output=vast&unviewed_position_start=1&ad_rule=1&vid=6013245479001&cmsid=384";
$el.after( unescape("%3Cscript src="" + (document.location.protocol == "https:" ? "https://sb" : "http://b") + ".scorecardresearch.com/beacon.js" %3E%3C/script%3E") );
$( document ).one( 'ready', function() {
$( "#video_container-818297" …read more
Source:: Sportsnet.ca
(Visited 2 times, 1 visits today)