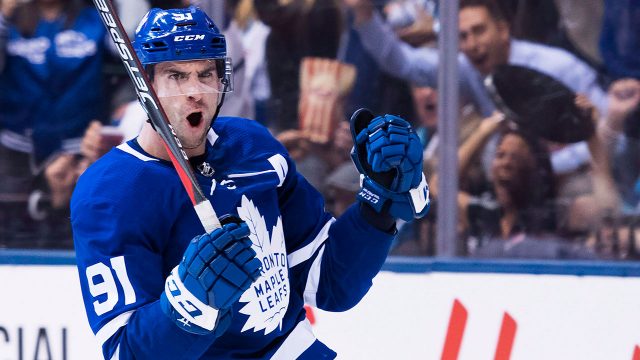 DENVER — They were worried about the altitude. The schedule didn't afford the Toronto Maple Leafs an opportunity to hold an off-day practice in the Mile High City, and Mike Babcock had no trouble spotting the effects of oxygen depletion in his group during a quick 18-minute twirl on the morning of Tuesday's game.
"If you saw, it wasn't that pretty," he said. "Never usually is."
The plan was simple: Keep the early shifts short, change often and don't get lured in to a track meet with the Colorado Avalanche.
It was a plan adhered to by every member of the Leafs except Kasperi Kapanen, who faced no resistance from the thin air or weakened lungs while racing to breakaways on each of his first two shifts. His speed was the reason Toronto built an early 1-0 lead, with Auston Matthews sending him free on an alley-oop pass for a counter-strike after the Leafs were hemmed in their own zone for a long stretch.
Stream Maple Leafs hockey on Sportsnet NOW
Sportsnet NOW gives you access to over 500 NHL games this season, blackout-free, including Hockey Night in Canada, Rogers Hometown Hockey, Scotiabank Wednesday Night Hockey, the entire 2019 Stanley Cup Playoffs and more.
CHOOSE PLAN
"I think he's pretty under-rated with his skating," said Avalanche forward Mikko Rantanen, who has known Kapanen since they were teenagers. "He's one of the fastest guys, I think, in the league and really this year, especially, the offence has been there. He's always been an offensive guy and now he's showing it in the NHL."
We'll assume Rantanen hasn't spent much time following the media in coverage in Toronto, where no player can possibly be underrated for anything.
But the point remains. Kapanen has made a seismic leap in his fourth season of North American professional hockey, going from a guy who had to learn how to kill penalties just to earn a place in the NHL to one playing beside Matthews and Patrick Marleau on the most potent 5-on-5 team in the league.
And, after scoring twice in the 5-2 victory over Colorado, he's knocking on the door of a 20-goal year — needing just two over the final 26 games to match an accomplishment his father, Sami, reached five times.
That level of production stretches far beyond the expectations of a 2014 first-round pick …read more
Source:: Sportsnet.ca