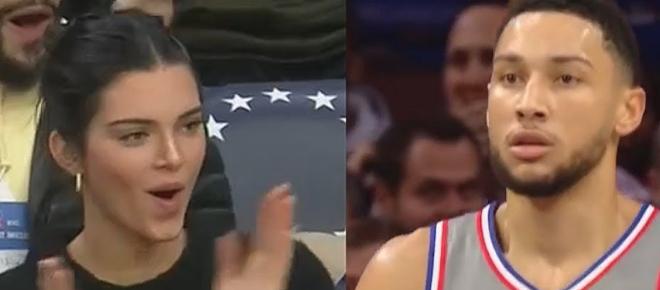 On Sunday (February 10), Lebron James and the Los Angeles Lakers took on Ben Simmons and the Philadelphia 76ers. The crowd was packed and included the likes of Philadelphia Eagles players Carson Wentz and Alshon Jeffrey, as well as Lakers president Magic Johnson and Patriots owner Robert Kraft. Since Simmons was on the court, it also meant his girlfriend, Kendall Jenner, was watching from courtside. However, a viral photo of Jenner has the internet talking, as does James' defense on Simmons in a viral video clip.
Kendall longing for LeBron?
With Kendall Jenner courtside, the Philadelphia 76ers have actually done quite well. At least one Twitter post indicates the team is 13-2 with Ben Simmons' good luck charm watching in person. However, photographers also captured an interesting shot of Ms. Jenner as she was gazing at none other than King James during Sunday's Lakers vs Sixers matchup.
The photo below has gone viral, similar to the one LeBron had on Instagram for the Lakers' buzzer-beater win this past week. Many of the latest tweets are suggesting finding a girl who looks at you the way Jenner looks at LeBron. Others have trolled Simmons a bit, suggesting Jenner wants to upgrade, despite LeBron being a married man. Other tweets say it caused Ben Simmons to actually attempt a three-pointer (he missed) and other crazy things during the game.
…Read more …read more
Source:: blasting news
(Visited 1 times, 1 visits today)