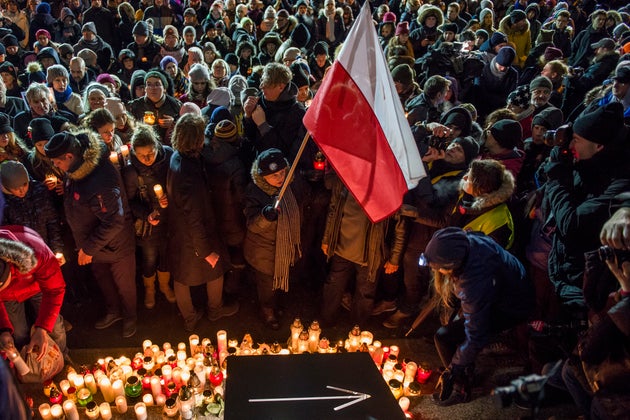 Vigils were held on Monday in Gdansk, Warsaw and other cities across Poland following the assassination of popular liberal mayor Pawel Adamowicz.
Many carried candles in glass jars and some used phones to produce flickers of light, an apparent reference to the Lights to Heaven event where the politician was slain.
Donald Tusk, a founder of Civic Platform who was prime minister when the attacker was imprisoned and who is now president of the European Council, joined mourners in Gdansk, also his home town.
"I want to promise you today, dear Pawel, that for you and for all of us, we will defend our Gdansk, our Poland and our Europe from hatred and contempt," Mr Tusk told the crowd.
The city flag was lowered to half-mast and masses were held in Gdansk, Warsaw and elsewhere.
A number of social media users shared photographs of Polish well-wishers who took to the streets to pay tribute to the fallen leader.
Thousands of Gdansk residents gathering on the streets of the city tonight to pay tribute to murdered Mayor Paweł Adamowicz (photo: https://t.co/LqXBaDUiwR) pic.twitter.com/KZTFI2HGWu
— Jakub Krupa (@JakubKrupa) January 14, 2019
President Andrzej Duda, who is aligned with the ruling party, opened a news conference with a minute of silence and said a day of national mourning will be observed when Adamowicz's family holds his funeral. He is survived by his wife and two daughters.
Duda called him a "truly great human being, a great politician and great resident of Gdansk", and denounced the attack as an act of unimaginable evil.
He tweeted: "Mr. President Paweł Adamowicz has gone. I combine regret and prayer with his closest friends and all men of good will. Please Lord God for support for the deceased family. Hostility and violence brought pain."
Pan Prezydent Paweł Adamowicz odszedł. Łączę się żalu i modlitwie z Jego Najbliższymi, Przyjaciółmi i wszystkimi Ludźmi dobrej woli. Proszę Pana Boga o wsparcie dla Rodziny Zmarłego.
Wrogość i przemoc przyniosła najtragiczniejszy skutek i ból. Nie wolno nam się z tym pogodzić.
— Andrzej Duda (@AndrzejDuda) January 14, 2019
Ruling party leader Jaroslaw Kaczynski, Poland's most powerful politician, expressed his "great pain" and solidarity with Adamowicz's family.
The 53-year-old died from the wounds inflicted by a 27-year-old man who stormed onstage on Sunday evening while he was addressing an audience during the Lights to Heaven, the finale of a nationwide fundraiser for sick children.
Adamowicz had just expressed gratitude to the "generous" …read more
Source:: The Huffington Post – UK Tec