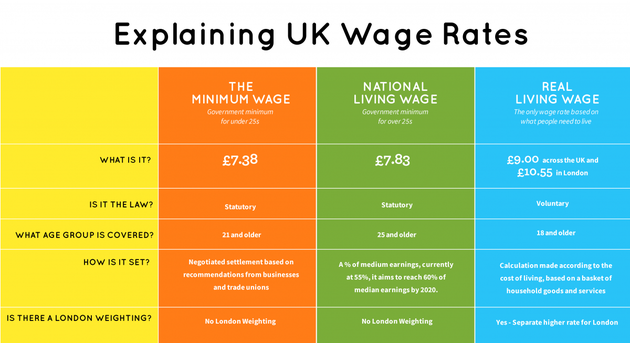 The concept of a living wage in Britain first emerged in the late 19th century, when Fabians Sidney and Beatrice Webb observed trade unions and workers agitating for a subsistence wage to provide for basic life necessities. Pressure from the labour movement eventually resulted in Wages Councils after World War Two, regulating low wage sectors; but they were abolished by the Conservative government in 1993.
With Wages Council abolition and decline of unions and collective bargaining, interest in a living wage has re-emerged due to rising in-work poverty – people not earning enough to live on. The Labour government introduced a new compulsory legal national minimum wage for the first time in 1998, but it has not been set high enough to prevent working poverty. Therefore, in 2001, the London Citizens movement launched a higher living wage campaign. Since 2011, the campaign has been pursued countrywide by Citizens UK through the Living Wage Foundation. The LWF sets a voluntary 'real living wage' (RLW) independently, by annually calculating what workers need to afford basic living costs.
The LWF announced on November 5th 2018 that the 'real living wage' will increase by 2.9% to £9 an hour outside London, and 3.4% to £10.55 in London. Approximately 180,000 workers will benefit by May 2019, working for 4,700 employers voluntarily LWF accredited, many of whom see it as the right and ethical thing to do.
The RLW is higher than the legal 'national living wage' (NLW) introduced by then chancellor George Osborne in 2016 for workers 25 and older (£7.83 in 2018) – an opportunist and misleading political rebranding. From April 2019, the NLW will rise by 4.9% to £8.21. Adding to wage regulation complexity, tapered lower rates for the original 'national minimum wage' cover those aged under 25.
The government's legal minimum rates are insufficient for many people to live on, given inflated costs for human essentials like housing, energy bills, transport – largely caused by privatizing public services and excessive profiteering. Working poverty cannot be simply solved by raising wages alone, when the welfare state and affordable public necessities are being eroded. The 'national living wage' is arguably no such thing for 'strivers' among the working poor. There are worrying echoes of Victorian destitution (and similar language of …read more
Source:: The Huffington Post – UK Tec
(Visited 1 times, 1 visits today)