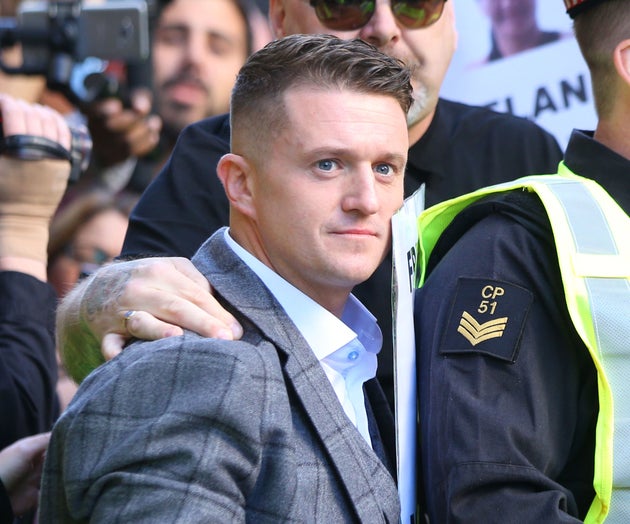 Far-right activist Tommy Robinson must remain barred from entering America, a group of 55 British MPs have told US Secretary of State Mike Pompeo.
In a letter to Donald Trump's administration, the cross-party group express "grave concern" Robinson – real name Stephen Yaxley-Lennon – could be granted a waiver by the US government.
Such a move would allow the founder of the English Defence League to take up a high-profile speaking and media engagements in Washington DC next week that could raise as much as £1m.
Seven Republican congressmen, as well as US anti-Muslim groups, the Middle East Forum (MEF) and the David Horowitz Freedom Centre have invited Robinson to speak at a closed event.
As it stands, Robinson is banned from travelling to the USA due to a 2012 conviction for entering the country on a false passport, for which he received a ten-month prison sentence in the UK.
Robinson was said to be using the fake passport after being denied a visa due to criminal convictions for violence.
The MPs, which include Tories, Labour and Lib Dems, warn Robinson plans to "speak to prominent audiences in Washington DC and to secure media appearances to promote his violent and extremist agenda" and add any funds he raised could be used "to organise further disruptive demonstrations in communities across the UK".
"Such demonstrations have resulted in outbreaks of violence in the past," they added.
Joe Mulhall, senior researcher at the anti-racism charity Hope Not Hate, called on Pompeo to think carefully.
He said: "Stephen Lennon is a violent thug who broke American law by entering the US on a fake passport in 2012. It would make a mockery of the US laws for the Administration to allow him into the country.
"His fundraising visit is not in the UK public interest. Lennon would receive a huge boost if he's allowed into the US, not least in the form of around £1m in funding, which he would then use to organise demos around the UK, sowing further division and violence."
Matthew McGregor, head of campaigns at the charity, added UK ministers should be stepping in.
He said: "Stephen Lennon is a violent thug. If he gets into the US for this visit it'd have a terrible impact here in Britain, so why the hell are Theresa May and Sajid Javid not on this? They should tell the Trump administration very firmly: apply your laws, and don't allow …read more
Source:: The Huffington Post – UK Tec
(Visited 1 times, 1 visits today)