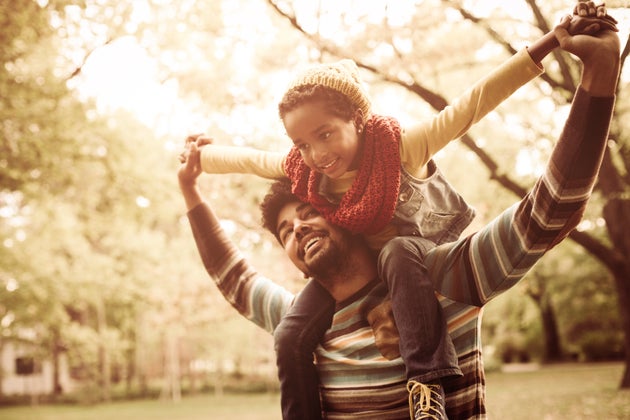 Peppa Pig is political. The parenting hat trick. The paternity gap.
I enjoyed making up new buzzwords and catchy phrases in the course of writing my latest book, Dads Don't Babysit.
But behind each one is an important point about the role men play in their families' lives and some serious solutions to change things and genuinely make life better for everyone. Actually everyone. I know, it's quite the ambition.
Let's start with Peppa Pig, the kiddie entertainment behemoth. If you have kids it's likely they watched the series, if you're about to have kids you're going to be introduced to Peppa and her family whether you like it or not, even if you hate children and never want a family the chances are you've been forced to listen to an episode of Peppa Pig played on an iPhone on a busy bus or train. When it comes to silencing fractious children it's invaluable.
However the patriarch of the pig family is a buffoon and it's this that bothers me. Because Daddy Pig is not alone.
Think of dads on TV and the chances are he's fun, active and inept.
Homer Simpson is surely the most famous father on the planet. And yet he's also probably the worst example of a dad.
This matters. Kids trying to make sense of the world and their place in it see these shows and swallow the stereotypes. Adults do too. Men get the message that looking after your children full time is odd.
Culture is catching up. Two recent hit shows featured dads that do the majority of the childcare. These were Kevin in BBC comedy Motherland who was wet and pathetic and Joe Miller in Broadchurch who killed people. The message is clear. Only weirdos look after their own children.
And this is a shame because of the parenting hat trick.
Men who engage fully with family life score three times (and I don't mean in the bedroom, though equal partners have a better sex life).
Firstly they benefit. Men who spend more time with their kids are fitter, happier, more productive and live longer.
Secondly, their partners benefit. Women who enjoy equal parenting are in line for better mental health and if they don't need to take so long out of the workplace to look after a baby because their other half is doing their share then they won't be hit by the lifelong
Source:: The Huffington Post – UK Tec
(Visited 1 times, 1 visits today)