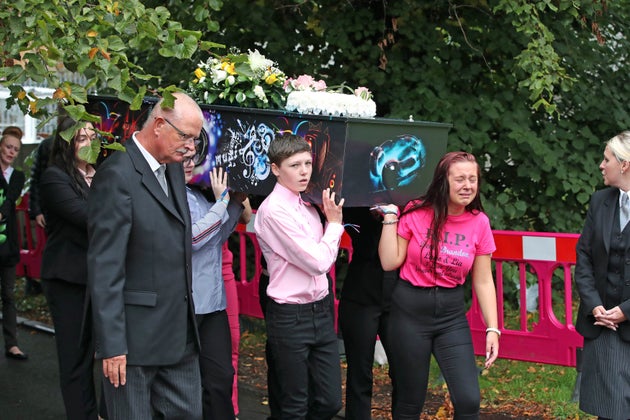 Hundreds of mourners lined the streets to pay respects as four coffins carrying children killed in a petrol-bombing on their home were carried into their funerals.
Demi Pearson, 15, brother Brandon, eight and sisters Lacie, seven, and Lia, three, died in the arson attack which turned their home into an inferno last December.
People lined the route of the funeral procession leading to St Paul's Church, but the children's mother, Michelle Pearson, was unable to attend.
The 36-year-old was badly injured in the blaze at her home in Jackson Street in Walkden, Greater Manchester, and is still unwell and in hospital.
The funeral procession was led by kilted bagpipers playing a mournful lament, accompanied by drummers and followed by family and friends, walking closely behind four horse-drawn carriages, each bearing a coffin.
Two white horses pulled each carriage, with the names of the child on top in flowers and a portrait photo beside each coffin.
Pallbearers broke into tears as they passed a guard of honour of firefighters, the men and women who went into the house engulfed in flames and tried in vain to rescue the children.
Demi's coffin and carriage were multi-coloured, in memory of a teenager who was fond of music and planned to go to college.
Next arrived Brandon's Avengers-themed coffin, adorned with pictures of superhero figures.
Then followed Lacie's coffin, featuring a picture of a pink My Little Pony for the girl described by family as a "little diva".
Last came Lia, the smallest coffin of all, with a picture of cartoon character Peppa Pig.
Pearson's mother Sandra Lever was among the mourners filing into church for the start of the service, a quarter of a mile from their home.
Lever has said the children had all been "lovely, happy angels".
Ariana Grande's version of Somewhere Over The Rainbow played as the coffins were carried inside for the start of the service, mourners filling the church, with dozens of others listening to a loudspeaker relaying the service to those still outside.
Reverend Gill Page told them they were there to celebrate the lives of four "precious" children for the short time they spent on Earth.
The words of Michelle Pearson, still being treated for her injuries, were read by her sister Claire Pearson.
The mother described Lia as a "right little chatterbox", and said just thinking of Lacie, who loved to dance, made her smile through her tears.
Brandon loved technology and computers and had promised to build his mother a new …read more
Source:: The Huffington Post – UK Tec
(Visited 1 times, 1 visits today)