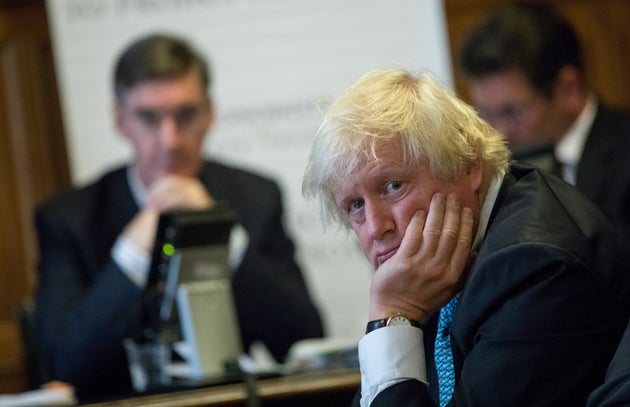 Boris Johnson has dug his own "political grave" following his remarks comparing Theresa May's Brexit plan to a suicide vest, his former close aide has declared.
Guto Harri, Johnson's Communications Director during his first term as Mayor of London, broke his silence to launch a withering assessment of his former boss's conduct.
In an interview for BBC Radio 4's The Week In Westminster, Harri said that the former Foreign Secretary had 'blown up' his own chances of becoming Prime Minister by using inflammatory language and being "sexually incontinent".
However, in a surprise move, former Cabinet minister Michael Heseltine said Johnson still looks likely to become the next Tory party leader despite recent controversies over his inflammatory language and his private life.
Also speaking to the Radio 4 programme, to be aired on Saturday, Lord Heseltine said it was "difficult" to imagine Johnson not being put on the leadership ballot paper by Tory MPs.
Heseltine, an ardent backer of the UK remaining in the EU, stressed that he still had "substantial" doubts about Johnson's ability to unify his party and the country but hoped he could change his mind.
The Uxbridge MP has in recent weeks attracted huge controversy after comparing women in burqas to 'letterboxes', his 'suicide vest' remark and news of his divorce on grounds of adultery.
Harri, Johnson's right hand man for four years at City Hall, has until now kept his counsel. But he was scathing about Johnson's recent conduct.
"I fear that Boris is digging. Somebody needs to take the spade out of his hand or it looks to me like he's digging his political grave," he said.
"It's one thing to deploy humour and charm and intellect and all these things he has in spades which he has done brilliantly in the past, not least his exquisite gift of language.
"But at the moment it is being deployed in a really destructive and self-destructive way that I think is doing enormous damage to him as well as to the country."
I've said no to countless requests but finally had to articulate my concerns to @paulwaugh@BBCRadio4 that @BorisJohnson is self-destructing, as well as damaging the U.K. Tragic but true. https://t.co/f3TrbDmdMF
— Guto Harri (@Guto_Harri) September 14, 2018
The former comms chief, a former BBC political journalist who has known Johnson since they were at Oxford together, added that it was a 'tragedy' that his old friend had lurched rightwards.
"People always said …read more
Source:: The Huffington Post – UK Tec
(Visited 1 times, 1 visits today)