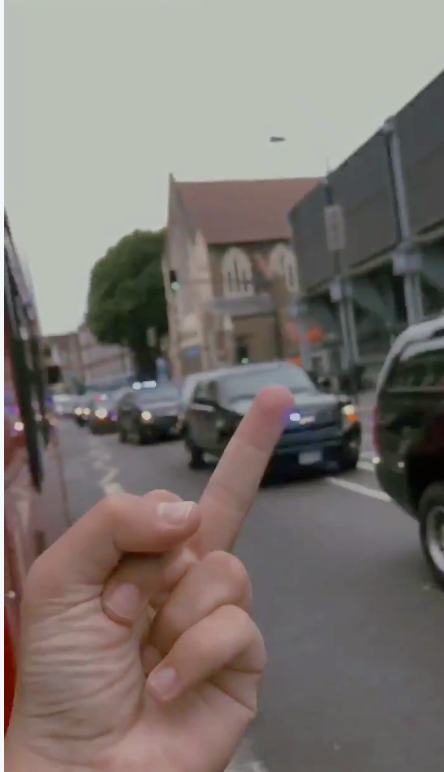 Donald Trump appears to be unfazed by three days of planned protests against his presidency, claiming the people of Britain "like me a lot".
Speaking at a tense Nato summit between world leaders, the US President told reporters during a surprise press conference: "They like me a lot in the UK. I think they agree with me on immigration." He added: "I think that's why Brexit happened."
But ahead of Trump landing in the UK this lunchtime, at least one video on social media began circulating that suggested he might be slightly off the mark.
Miguel Santana da Silva was lucky enough to catch what appeared to be the presidential motorcade – minus Trump, who was still in Brussels – as it passed through Camden on Thursday morning.
Set to the ominous tones of The Imperial March from Star Wars, Da Silva made his feelings about Trump quite clear to whoever was driving, though he was careful to point out it his protest wasn't directed at the accompanying police officers.
Didn't expect to catch comrade Trump and his filthy motorcade worming by Camden Sainsbo's bus stop today. Here's a London welcome for an orange wasteman – #FuckTrump#MAGApic.twitter.com/Ko9AZCsc56
— Miguel Santana da Silva (@m_santana) July 12, 2018
Although da Silva was born and raised in Portugal, the reaction to his tweet suggests he's tapped into a wider sentiment.
Doing god's work my son
— Paris Zarcilla (@ParisZarcilla) July 12, 2018
Ffs. How many cars does one tangerine man-baby need? Well done for greeting him so warmly!
— Debbie Reads (@higgins_dee) July 12, 2018
Well done mate.
You made me laugh.
— InTheShadows (@NotSoJammy) July 12, 2018
The presidential motorcade, which typically includes two identical limousines nicknamed The Beast, and other security and communications vehicles, has been brought across by a US Air Force transport aircraft.
The Beast is a seven-seat black armoured limousine which reportedly cost 2 million US dollars (£1.5m) and is designed to give Trump ultimate protection.
It can be turned into a sealed panic room with oxygen tanks, night-vision camera and reinforced steel plating said to be able to resist bullets, chemical attacks and bombs.
The Cadillac has Kevlar-reinforced tyres and steel rims that can keep the vehicle moving even if the tyres have been destroyed.
Bottles of the president's blood type are carried on board in case of a medical emergency, and a satellite phone enables …read more
Source:: The Huffington Post – UK Tec
(Visited 2 times, 1 visits today)