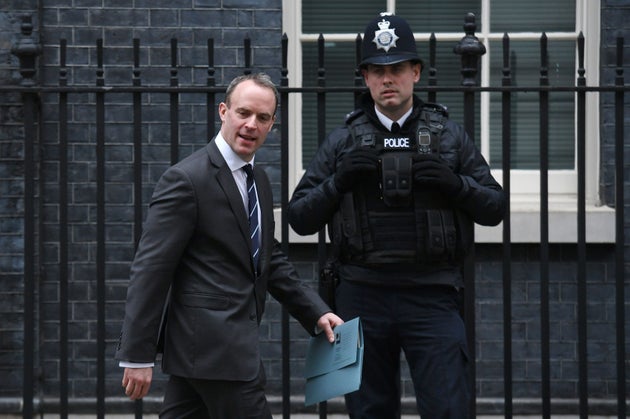 Brexit Secretary Dominic Raab has issued a stark warning to would-be rebel MPs to get behind the Prime Minister's negotiations with the EU.
The newly-appointed minister, who backed Leave during the EU Referendum, warned those who risk a no-deal Brexit by voting down Theresa May's final agreement with Brussels that "they too will be held to account" by the public.
Raab appeared to remind Brexiteers "we have won" after getting the EU Withdrawal Bill through the Commons intact, adding that when "push comes to shove" hardliners such as Jacob Rees Mogg "have got to do the responsible thing".
It comes as the government prepares to publish a White Paper setting out the detail of the Brexit plan agreed by ministers at Chequers, which led to the resignations of Raab's predecessor David Davis and Foreign Secretary Boris Johnson.
Raab said details published by the government today would "reassure all of those with concerns".
"For those that are either criticising or carping or whatever else, they need to come back with credible alternatives," Raab told the BBC's Radio 4 Today programme.
When asked if a deal based on the Chequers plan would win MPs' approval, he said he was "confident", adding: "There's no point in speculating, but we have won. I helped take the EU Withdrawal Bill through the House of Commons and we have got that bill through the House of Commons and the House of Lords, so through all of Parliament.
"We won all but one vote. So all this talk about sabotage and parliamentary riots, when push comes to shove, people will look and see they have got to do the responsible thing, which is back the government and get the best deal for the whole country.
"If not, they too will be held to account."
The Chequers deal proposes a softer version of Brexit which sees the UK leave the customs union and single market but sign up to a "common rulebook" with the EU on goods, while retaining a "Parliamentary lock" that allows Britain to diverge.
The UK-EU border would be treated as a "combined customs territory" and British courts would "pay regard" to judgements of the European Court of Justice.
Amid claims the deal would leave Britain a rule-taker, not a rule-maker, and would curtail the UK from striking trade deals with other countries, Raab defended the plan as a clean break and a "credible" proposal.
"It's bold, it's ambitious, …read more
Source:: The Huffington Post – UK Tec
(Visited 1 times, 1 visits today)