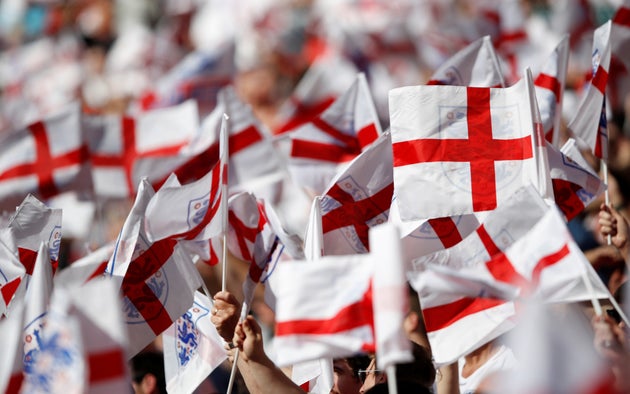 The triumphs of the England team have been celebrated across much of the country this World Cup. The last time we reached the semi-finals was 1990 and there's a real chance that, for the first time since 1966, football is coming home.
With England flags flying from windows up and down the country, this World Cup has also been a time for reflection on what being English means – particularly for multicultural communities. In a poignant blog post on HuffPost UK, Rabbil Sikdar discusses past associations between nationalism and the English flag, and the difficulties he's felt about identifying as an English Asian.
"England has always felt [like] home but I've always felt inclined to identify as British rather than Asian," he writes, before adding that this World Cup it feels like communities are more united, like there's been "a perceptible shift in the meaning and tone of Englishness for so many of us".
With the World Cup semi-final just hours away, seven people have reflected on what being English means to them.
George Gadd, 26: "I'm proud we have a rich tapestry of multiculturalism."
Gadd was born and raised in Nottingham. After studying at university in Birmingham he returned to his home city to work as an E-Learning and Media Officer at University of Nottingham and a musician. "I came from a single parent household where my mum sacrificed a lot and worked full-time to provide for me," he says. "I think that culture shaped me to always graft and to create opportunities for myself. [Mum is] easily one of my biggest heroes."
He says he's proud that England has "such a rich tapestry of multiculturalism" but adds it's a shame that "there are still a few people getting in the way of progress".
"More recently, with England's recent World Cup victory against Sweden in the quarter finals, a lot of Nottingham city centre was trashed with a taxi driver having his car smashed up and unable to make a living," he says. "Why destroy a country you are allegedly supporting?"
Kuran Hallan, 32: "[Being English is] being able to listen to the perspective others have."
Hallan was born and raised in Bedworth. After a brief stint living in Coventry he returned to his hometown where he now lives with his family. The managing director of a Birmingham-based merchant company says the most important thing he's learned growing up in England is the importance of …read more
Source:: The Huffington Post – UK Tec
(Visited 1 times, 1 visits today)